Prito or masebong baon every day? Delikado sa health yan, mga ka-kitch! Not to mention… for your wallet din. Nagmamahal na ang cooking oil and fried ulam uses more electricity or gasul. But worry no more, because this week's Kitchinspiring 5-Day Meal Plan features a great lineup of healthy, less oily but still yummy baon ideas just for you!
Frying becomes the go-to when you're new to the kitchen or nagmamadali. Kaya baguhan ka man sa kusina o hindi, we made sure you can do all of these recipes easily. Plus, preparing less oily baon for yourself or your family will be beneficial in so many ways. Consuming too much oil can lead to weight gain, high cholesterol, and other issues. By reducing the amount of oil in our meals, we can avoid these, plus mas makakatipid ka pa!
Healthy doesn't have to mean complicated to cook or boring to eat, so we've got you ka-kitch! Less oil na tapos masarap pa especially when paired with refreshing drinks and healthy snacks from Del Monte!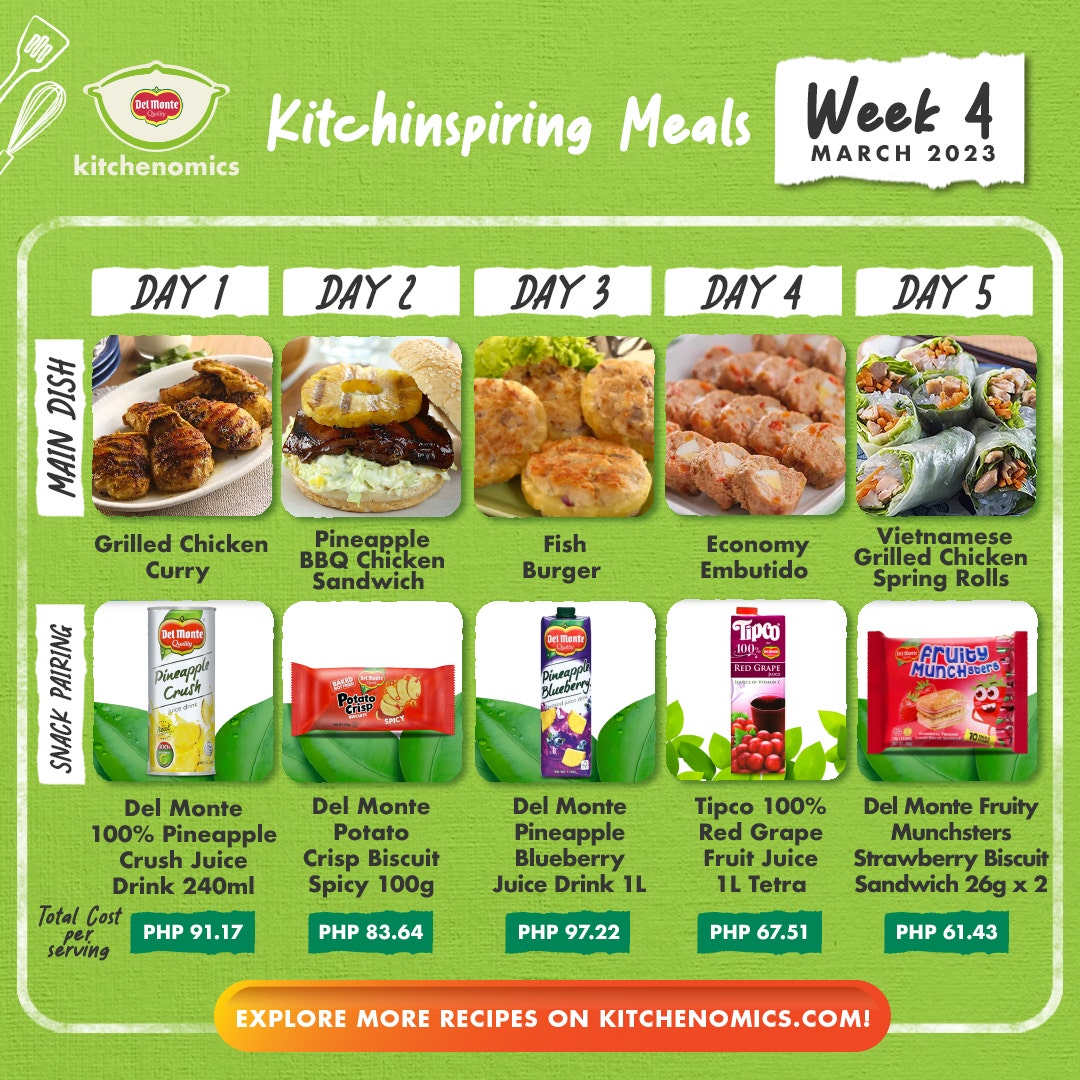 Try these now and let us know how it goes!
Click each recipe to learn more:
Day 1
Del Monte 100% Pineapple Crush Juice Drink 240ml
Day 2
Pineapple BBQ Chicken Sandwich
Del Monte Potato Crisp Biscuit Spicy 100g
Day 3
Del Monte Pineapple Blueberry Juice Drink 1L
Day 4
Tipco 100% Red Grape Fruit Juice 1L Tetra
Day 5
Vietnamese Grilled Chicken Spring Rolls
Del Monte Fruity Munchsters Strawberry Biscuit Sandwich 26g x 2