Creamy and Cheesy Pork Menudo Recipe
Find out our sauce-sarap twist to the classic Menudo!
---
Categories
Main Dish, Pork, Del Monte Tomato Sauce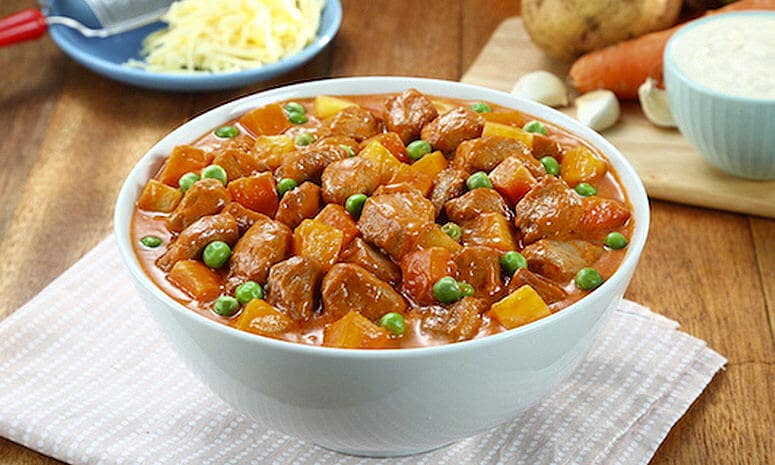 Ingredients
2 Tbsp oil
1 1/2 Tbsp onion, red, chopped
3/4 Tbsp garlic, minced
400 g pork, kasim, trimmed, cut into 1-inch cubes
2 1/2 Tbsp soy sauce
1 pouch DEL MONTE Original Style Tomato Sauce (200g)
1 pc bay leaf/laurel leaf
2/3 cup water
3/4 cup carrot, cut into 1/2-inch cubes
3/4 cup potato, cut into 1/2-inch cubes
1/4 cup all-purpose cream
1/4 cup melting cheese
1/8 Tbsp salt
1/8 Tbsp pepper, black
1/3 cup green peas
Cooking Tools Needed
Chopping Board
Measuring Cups
Measuring Spoon
Pot
Spatula
Procedure
Sauté onion and garlic in oil.
Add the pork and cook until pale brown in color and liquid is reduced.
Add soy sauce, DEL MONTE Original Style Tomato Sauce, bay leaf, and water. Cover and simmer over low heat for 10 minutes.
Add carrots and potatoes. Simmer for another 15 minutes or until the vegetables are tender.
Add all-purpose cream and melting cheese. Season with salt and pepper to taste. Lastly, add green peas. Serve.
Lusog Notes
This Creamy Cheesy Menudo recipe is rich in protein and vitamin A. Protein is necessary for growth and development, while vitamin A helps form and maintain healthy skin, as well as skeletal and soft tissues.
Chef's Tip
To keep your green peas a vibrant green color, add the peas into the pot but do not stir. Cover the pot with the heat turned off, and let the pot sit for a couple of minutes before serving.
Featured Products
---
You also might be interested in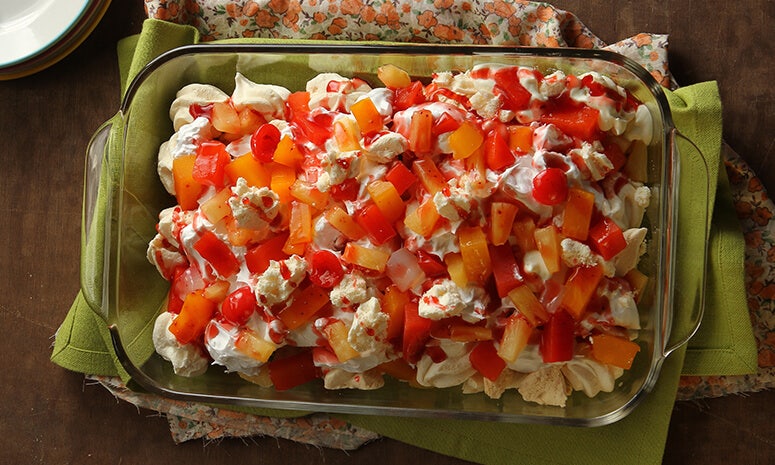 Fiesta Meringue Layers Recipe
A festive desert that bursts with flavors and textures in your mouth.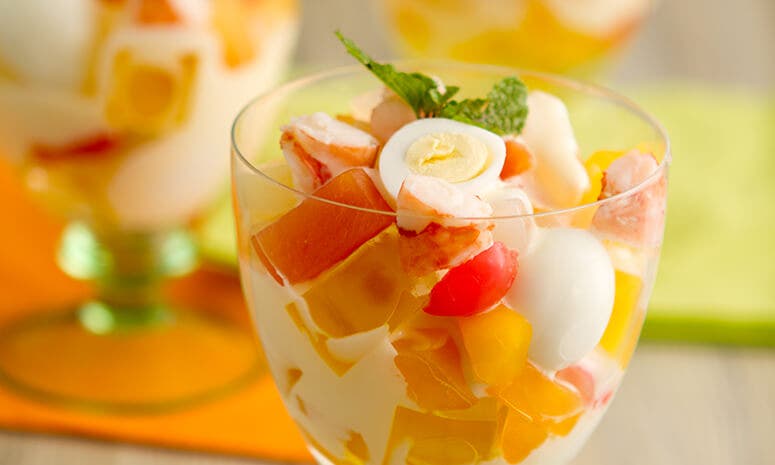 Savory Fruit Jelly Salad Recipe
Leave some space for this delectable and fruity dessert you can make easily.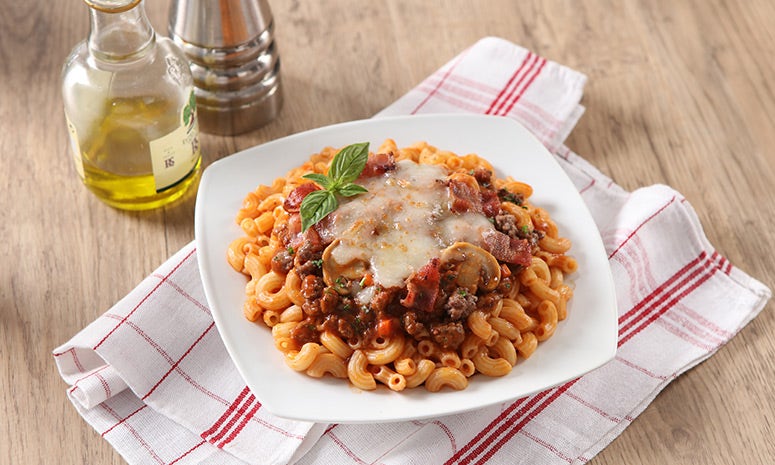 Macaroni with Beef and Mushroom Recipe
Your family will love the classic combination of this dish.