Creamy and Cheesy Pork Menudo Recipe
Find out our sauce-sarap twist to the classic Menudo!
---
Categories
Main Dish, Pork, Del Monte Tomato Sauce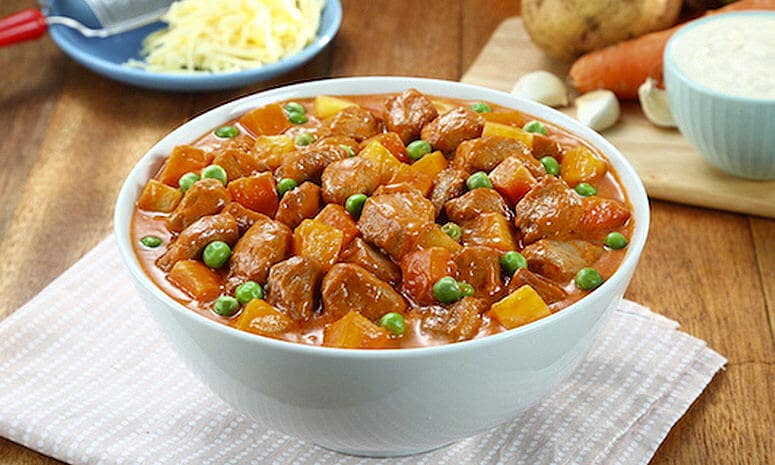 Ingredients
2 Tbsp oil
1 1/2 Tbsp onion, red, chopped
3/4 Tbsp garlic, minced
400 g pork, kasim, trimmed, cut into 1-inch cubes
2 1/2 Tbsp soy sauce
1 pouch DEL MONTE Original Style Tomato Sauce (200g)
1 pc bay leaf/laurel leaf
2/3 cup water
3/4 cup carrot, cut into 1/2-inch cubes
3/4 cup potato, cut into 1/2-inch cubes
1/4 cup all-purpose cream
1/4 cup melting cheese
1/8 Tbsp salt
1/8 Tbsp pepper, black
1/3 cup green peas
Cooking Tools Needed
Chopping Board
Measuring Cups
Measuring Spoon
Pot
Spatula
Preparation
Sauté onion and garlic in oil.
Add the pork and cook until pale brown in color and liquid is reduced.
Add soy sauce, DEL MONTE Original Style Tomato Sauce, bay leaf, and water. Cover and simmer over low heat for 10 minutes.
Add carrots and potatoes. Simmer for another 15 minutes or until the vegetables are tender.
Add all-purpose cream and melting cheese. Season with salt and pepper to taste. Lastly, add green peas. Serve.
Featured Products
---