Hamonadong Liempo Recipe
This holiday favorite is now hassle-free to prepare!
---
Categories
Category/kitchenomics/Recipes,Category/kitchenomics/Recipes/Main Dish,Category/kitchenomics/Recipes/Pork
Preparation Time
12 hr. and 5 min.
Cooking Time
1 hr. and 47 mins.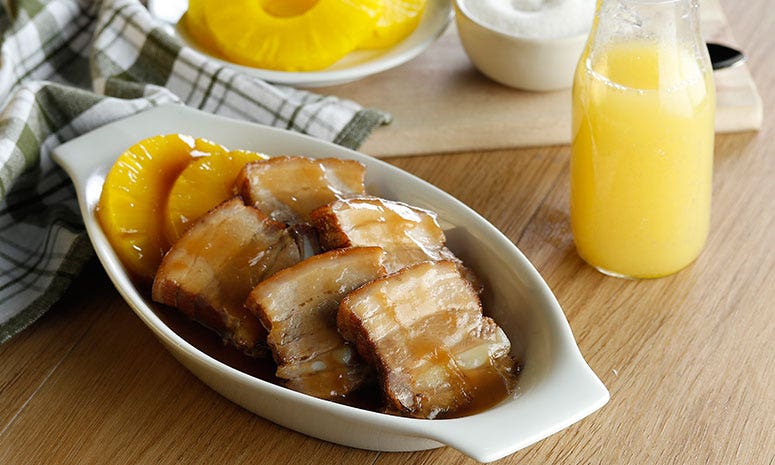 Ingredients
2 tsp salt
1 cup sugar, white
1 kg pork, liempo, boneless
2 Tbsp oil
1 can DEL MONTE 100% Pineapple Juice with Vitamins A, C & E (240ml)
2 cups water
1 can DEL MONTE Sliced Pineapple (227g), drained, reserve syrup
Procedure
1. Combine salt and sugar then rub all over the piece of pork liempo. Cover the container then chill overnight.
2. In a big pan, heat the oil then brown the meat on all sides in 1 minute.
3. Remove the oil from the pan then wipe the pan with paper towels. Add back the meat, add the DEL MONTE Pineapple Juice, reserved syrup, and water and simmer for 1 hour and 30 minutes or until tender.
4. Garnish with DEL MONTE Sliced Pineapple. Serve hot.
Lusog Notes
This Hamonadong Liempo recipe is high in protein, which is important for growth and development. It is also a source of vitamin B1 that helps the body in converting food to energy.
Chef's Tip
For the liempo to brown nicely, drain the meat from its juices and the sugar and salt mixture. Scrape off any excess sugar that will burn during browning.
Featured Products
Del Monte Pineapple Slices 227g
---
You also might be interested in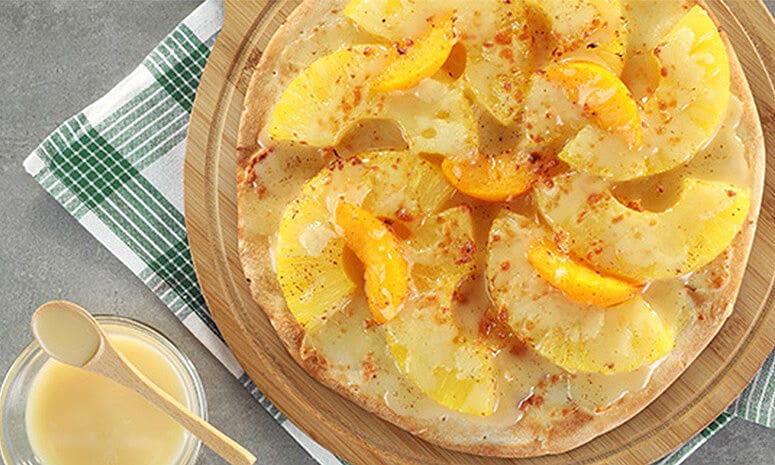 Pineapple Peach Pizza Recipe
Pizza for dessert? Try this recipe!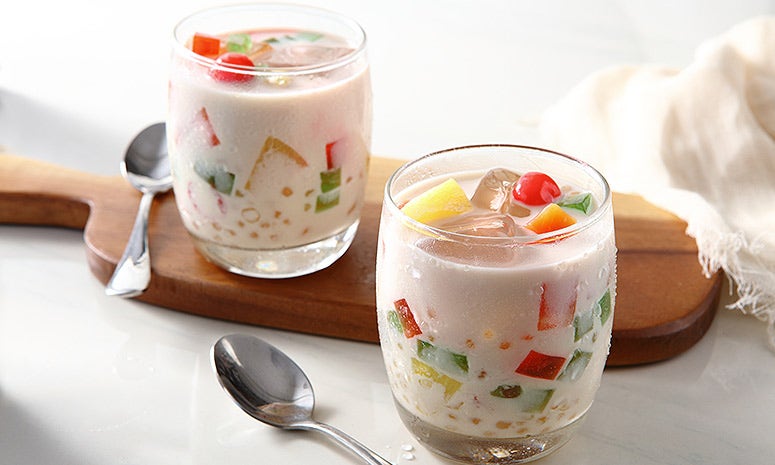 A simple thirst-quencher made extra special!