Four Cheese Spaghetti Recipe
The cheesier, the better! Enjoy a new take on spaghetti with four different kinds of cheese.
---
Categories
Pasta/Noodles, Pasta, Del Monte Spaghetti Sauce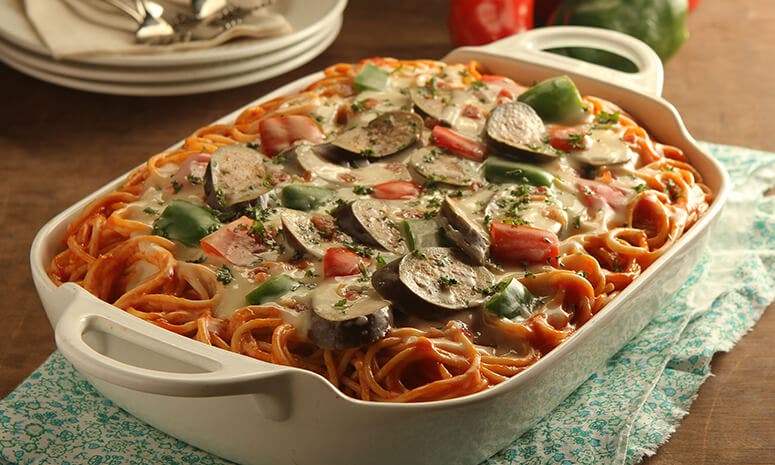 Ingredients
2 cups bell pepper, red, sliced into 1 x 1-inch squares
2 cups bell pepper, green, sliced into 1 x 1-inch squares
4 cups eggplant, sliced diagonally
1/2 tsp salt
1/2 tsp pepper, black
2 cups bacon, sliced into 1/2-inch strips
1 cup onion, chopped
2 Tbsp garlic, chopped
1 pouch DEL MONTE Italian Style Spaghetti Sauce (900g)
1 cup water
2 cups queso de bola, grated
1 cup cream cheese, grated
1 cup cheese, melting, grated
1 cup cheese, processed, grated
1/2 cup butter
2 cups milk, fresh
3/4 pack DEL MONTE Spaghetti (900g), cooked as per package direction
4 Tbsp parsley, for garnish
Cooking Tools Needed
Chopping Board
Measuring Cups
Pot
Grater
Measuring Spoon
Spatula
Strainer
Cooking Skills Needed
Pan-Grilling
Slicing
Simmering
Sautéing
Procedure
1. Season bell peppers and eggplant with salt and pepper then grill until cooked. Set aside.
2. Cook the bacon in a sauce pot until it releases its own fat. Add onions and sauté for 2 minutes until translucent. Add the garlic and sauté for 1 minute. Next, add the DEL MONTE Italian Style Spaghetti Sauce. Add stock/water. Simmer for 5 minutes. Set aside.
3. To make the cheese sauce, mix all ingredients in a pot and simmer over low heat for 5 minutes. Reserve 1 cup of cheese sauce for the topping.
4. Toss the pasta, half of the grilled vegetables, spaghetti sauce mixture, and half of the cheese sauce. Pour half of the pasta into a 8 x 8-inch aluminum tray, then pour half of the remaining cheese sauce. Top with the remaining half of the grilled vegetables and cheese sauce. Garnish with minced parsley.
Lusog Notes
This tasty pasta dish is high in calcium needed for healthy bones and vitamin A which helps resist infections and helps maintain healthy skin.
Chef's Tip
Grilling the vegetables will give the dish a smokey aroma and deeper taste unlike sautéeing them which will mellow out the flavors.
Featured Products
---
You also might be interested in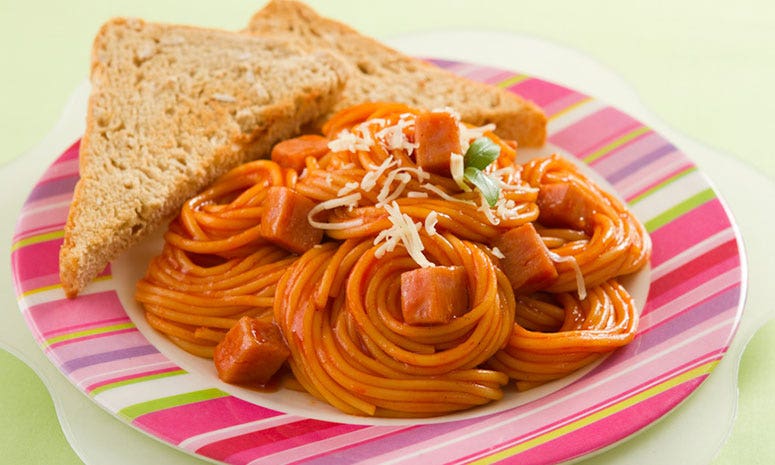 Luncheon Meat Spaghetti Recipe
Leftover luncheon meat in the morning makes a delicious comeback during merienda in this easy spaghetti recipe.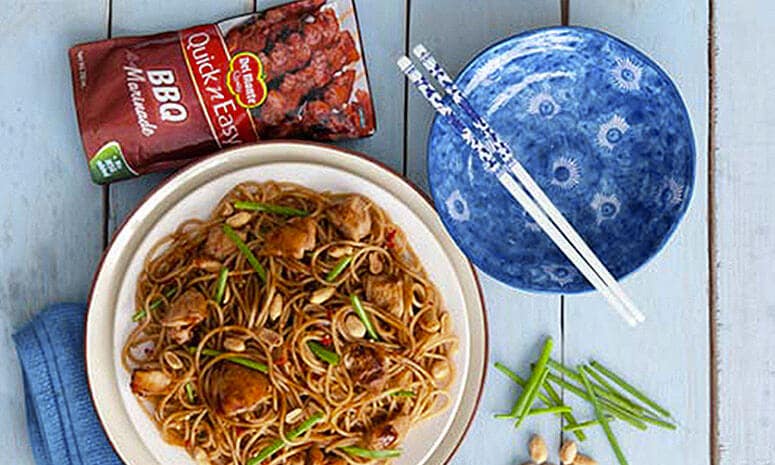 Sesame Soy Chicken Noodles Recipe
This quick and easy Asian inspired dish will be the star of your next celebration.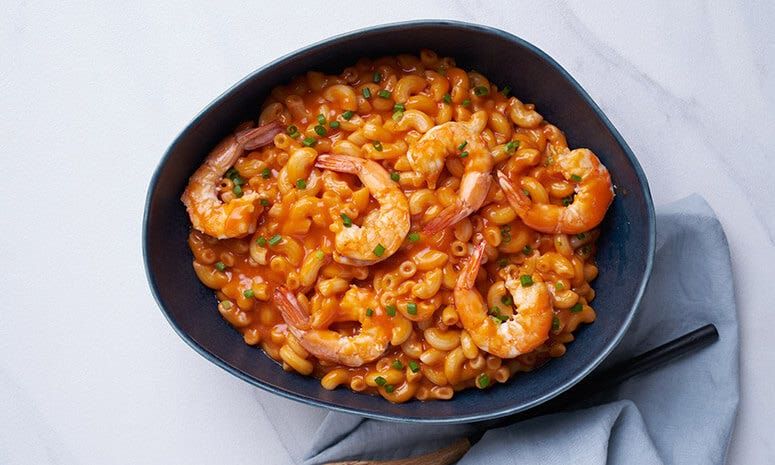 Nothing is complicated about this easy, creamy pasta.