Creamy Tapa Spaghetti Recipe
A delicious combination of Pinoy tapa and creamy pasta!
---
Categories
Pasta/Noodles, Beef, Del Monte Spaghetti Sauce
Ingredients
1/2 cup DEL MONTE Quick 'n Easy BBQ Marinade (200ml)
1 Tbsp garlic, minced
300 g beef, sirloin, sukiyaki cut
2 Tbsp oil, for frying
1 pouch DEL MONTE Creamy & Cheesy Spaghetti Sauce (900g)
1 tsp liquid seasoning
1/4 cup butter
1/2 cup water
1/2 tsp salt
1/4 tsp pepper, black
2/3 pack DEL MONTE Spaghetti (900g), cooked as per package direction
Procedure
1. Marinate the beef in the DEL MONTE Quick 'n Easy Barbecue Marinade and garlic for 5 minutes. Drain then reserve the marinade.
2. Heat a pan and fry the marinated sirloin. Set aside.
3. In the same pan, heat the DEL MONTE Creamy & Cheesy Spaghetti Sauce. Add the liquid seasoning, butter, water, salt, and pepper. Simmer for 3 minutes.
4. Add the reserved marinade, then put back the meat and simmer until cooked.
5. Pour over and mix with cooked Del Monte Spaghetti.
Lusog Notes
Pasta is a source of carbohydrates that provide the body with energy, as well as fuel for the brain and nerves. This Tapa Spaghetti is also a source of protein which is important for growth and development.
Chef's Tip
Briefly marinate the beef. The sukiyaki cut of beef is very thin and will absorb the marinade quickly. Long marination will make the meat too salty and will also dry it out as the salt in the marinade will draw out the meat's moisture.
Featured Products
---
You also might be interested in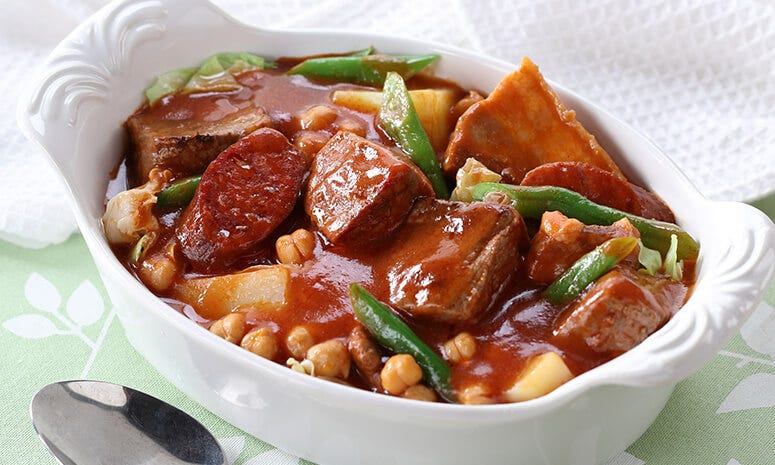 Learn how to prepare this traditional Spanish stew the Del Monte way!
Pork meets seafood in this classic Pinoy dish!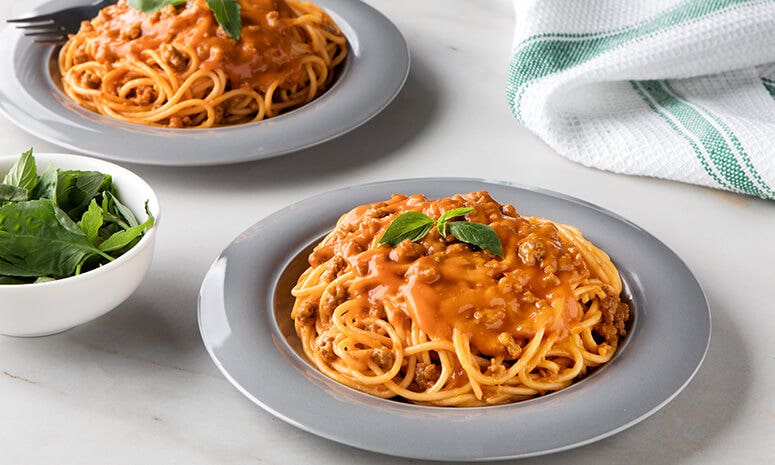 Cook this kiddie favorite with just a few ingredients!