Sinuglaw with a Citrus Pinyatwist Recipe
Pork meets seafood in this classic Pinoy dish!
---
Categories
Main Dish, Pork, Del Monte Pineapple
Ingredients
250 g pork, liempo
1 tsp salt
1/4 tsp pepper, black
1 Tbsp tabon-tabon
2 Tbsp calamansi juice
250 g tuna, fillet, cut into 1/4-inch cubes
2 Tbsp DEL MONTE Red Cane Vinegar
1/8 tsp salt
1/8 tsp pepper, black
1 pouch DEL MONTE Pineapple Tidbits (115g)
1/3 cup bell pepper, red, diced
1 1/2 Tbsp onion, red, chopped
1 pc siling labuyo, sliced
1 Tbsp ginger, chopped
1 pc siling haba, seeded and sliced
1/2 cup cucumber, sliced with peel
1 Tbsp green onions (optional), chopped
Cooking Tools Needed
Measuring Cups
Strainer
Chopping Board
Measuring Spoon
Spatula
Procedure
1. Season pork with salt and pepper. Charcoal/pan-grill until cooked, slice into half inch strips and set aside.
2. Mix grated tabon tabon with half of calamansi juice. Press and strain. Set aside juice and discard tabon-tabon pulp.
3. Combine fish, DEL MONTE Red Cane Vinegar, salt, and pepper. Let stand for 15 minutes in refrigerator.
4. Add DEL MONTE Pineapple Tidbits with syrup, remaining calamansi juice and remaining ingredients except the pork.
5. Top with grilled pork slices before serving.
Lusog Notes
This dish is high in vitamin B1 that helps convert food into energy and niacin that promotes normal digestion and healthy skin.
Chef's Tip
Tabon-tabon is a tropical fruit used to give a sour-bitter taste to food. When the pulp is grated and mixed with the calamansi juice, the sap turns milky white and gives a unique sour-sweet taste that is perfect for fish.
Featured Products
---
You also might be interested in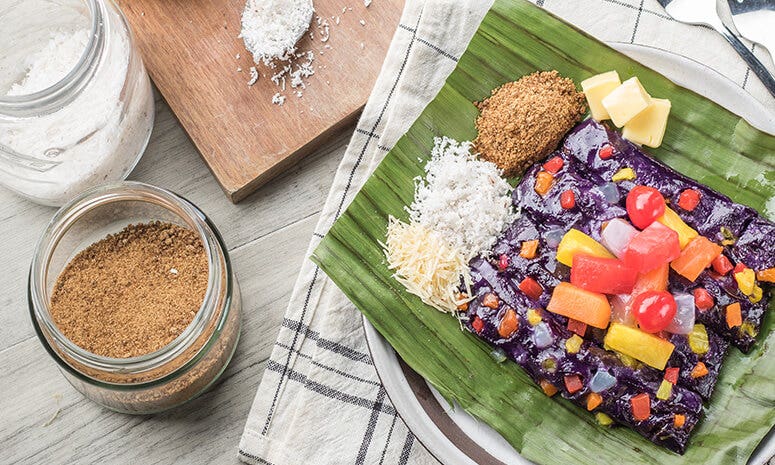 Puto Bumbong Fiesta Recipe
Chef Jackie Ang Po has an easy recipe for everyone's favorite holiday staple!