Cocido Recipe
Learn how to prepare this traditional Spanish stew the Del Monte way!
---
Categories
Main Dish, Beef, Del Monte Tomato Sauce
Cooking Time
2 hrs. and 20 mins.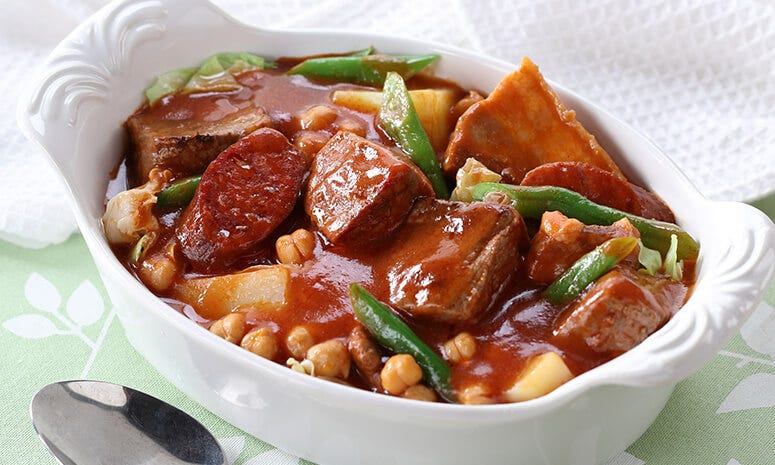 Ingredients
600 g beef, round, cut into 2 1/2-inch cubes
600 g pork, liempo, cut into 2 1/2-inch cubes
1/2 tsp salt
1/4 tsp pepper, black
1/4 cup oil, for frying
3 Tbsp garlic, crushed
1/3 cup onion, chopped
1 3/4 cups water
2 pouches DEL MONTE Original Style Tomato Sauce (200g)
2 pcs chorizo de bilbao, sliced
2 pcs bay leaf/laurel leaf
1/2 tsp peppercorn, black
1/2 cup garbanzos, cooked
- salt, to taste
- pepper, to taste
2 cups potato, cut into chunks
2 cups Baguio beans, sliced
3 3/4 cups cabbage, sliced
Cooking Tools Needed
Measuring Cups
Spatula
Chopping Board
Measuring Spoon
Procedure
1. Season beef and pork with salt and pepper. Brown in oil. Set aside meat and remove excess oil.
2. In the same pan, sauté garlic, onion and beef. Add water. Cover and simmer until meat is tender (adding more water if needed).
3. Add pork, DEL MONTE Original Style Tomato Sauce, chorizo, laurel, peppercorn, garbanzos and salt and pepper to taste. Simmer until meat is tender.
4. Add potatoes. Cover and simmer for 10 minutes. Add Baguio beans and cabbage. Cook for another 3 minutes. Serve.
Lusog Notes
This recipe is a source of vitamin A that helps resist infections and maintain healthy skin. It also has niacin that helps keep the digestive and nervous systems healthy.
Chef's Tip
Cook the beef over low heat until tender. When tender, add the pork as the pork tenderizes faster than the beef.
Featured Products
---