Arroz Ala Cubana Recipe
---
Categories
Pasta, Noodles
Ingredients
2 tbsp oil
1 tbsp garlic, crushed
1 3/4 tbsp onion, red, sliced
125g pork, ground
2/3 cup kamote diced
1 pouch DEL MONTE Filipino Style Tomato Sauce (90g)
1 3/4 Tbsp raisins
1/2 tsp salt
3/4 Tbsp green peas frozen
2 1/4 cup rice, steamed
1 1/2 pc banana, saba, each sliced diagonally into 5 and fried
2 pc egg, fried sunny side up
Cooking Tools Needed
Bowls
Chopping Board
Knife
Measuring Cups
Measuring Materials
Pot
Pan
Scooper
Spatula
Tongs
Cooking Skills Needed
Frying
Sautéing
Simmering
Slicing
Procedure
1. Sauté garlic, onion, and pork. Add kamote. Cook for 5 minutes or until light brown. Add DEL MONTE Filipino Style Tomato Sauce, raisins, salt, and pepper. Bring to a boil then simmer for 10 minutes or until kamote is cooked. Add peas. Set aside.
Lusog Notes
This dish is a source of vitamin B1 that helps keep the nervous system healthy. It is also a source of vitamin C that helps fight common infections and keeps gums healthy.
Chef's Tip
To make perfectly cooked fried eggs, heat the pan over medium to high heat. Add oil then crack the egg and slip it carefully into the pan. Immediately lower the heat. Season with salt and pepper then place a few drops of water into the pan. Cover with a lid and cook until the whites have set and the yolk is done to your desired consistency. Slide into a plate.
Featured Products
---
You also might be interested in
Chicken Cacciatore Pasta Recipe
Flavors of Italy in one heartwarming chicken pasta dish.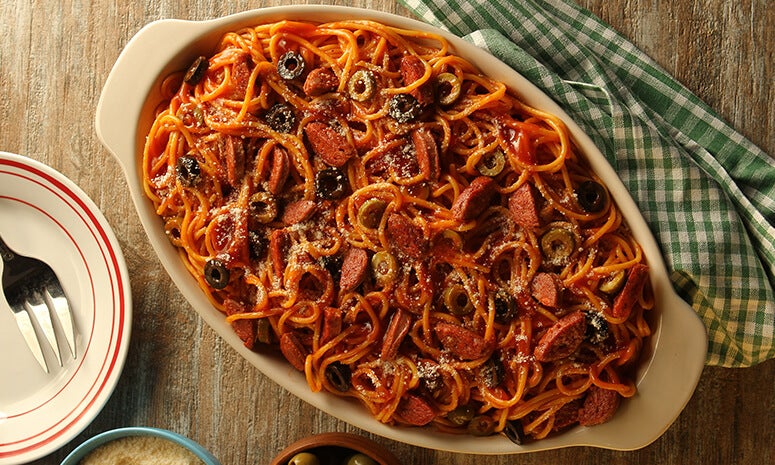 Chorizo and Olive Pasta Recipe
Impress loved ones with the sophisticated flavors of this dish.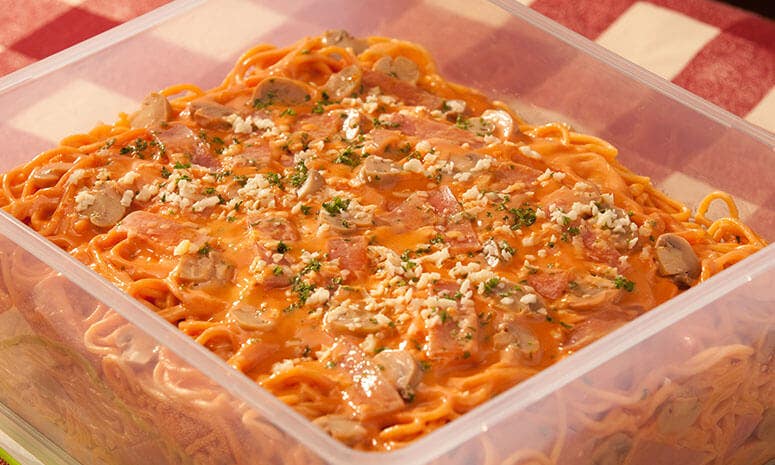 Ham and Mushroom Pasta Recipe
The kids will surely love the classic flavor of this pasta dish!