Chicken Cacciatore Pasta Recipe
Flavors of Italy in one heartwarming chicken pasta dish.
---
Categories
Pasta/Noodles, Pasta, Del Monte Spaghetti Sauce
Ingredients
400 g chicken, breast fillet, cut into wide strips
3/4 tsp salt
3/4 tsp pepper, black
4 Tbsp butter
3 1/4 Tbsp garlic, crushed
1 cup onion, diced
3/4 cup button mushroom, canned, each piece cut into 4 wedges
3/4 cup bell pepper, red, cut into small cubes
8 pc black olives, pitted, sliced thinly
1 pouch DEL MONTE Italian Style Spaghetti Sauce (560g)
1/3 cup chicken stock
1 pc star anise
- salt, to taste
2/3 cup cheese, coarsely grated
1 pack DEL MONTE Spaghetti (400g), cooked
Procedure
1. Season chicken with salt and pepper.
2. Heat pan with butter or margarine. Brown the chicken then add garlic and onion. Sauté for 2 minutes, then add mushrooms, bell peppers and olives. Stir for 5 more minutes.
3. Add DEL MONTE Italian Style Spaghetti Sauce, chicken broth or water, star anise and salt to taste. Cover and simmer over low heat for 20 minutes, stirring occasionally. Add half of cheese. Allow to simmer. Set aside.
4. Mix remaining cheese with cooked DEL MONTE Spaghetti. Pour sauce over pasta. Top with remaining cheese.
Lusog Notes
This Chicken Cacciatore Pasta dish is a source of protein that promotes growth and development. It also aids in formation of antibodies that fight illnesses.
Chef's Tip
Browning the chicken first ensures a nice color on the meat and a deeper, meatier flavor that goes into the sauce.
Featured Products
---
You also might be interested in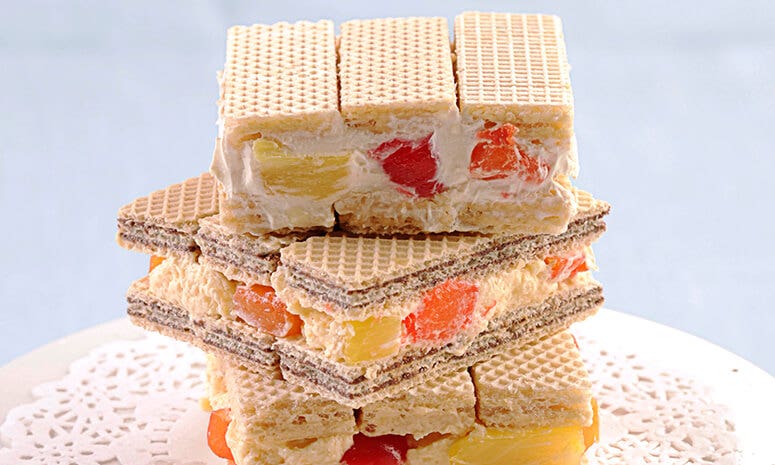 Fiesta Ice Cream Sandwich Recipe
Bits of fruit swirled into vanilla ice cream and sandwiched between light and crunchy wafers. Perfect for weekend dessert!