Tapsilog Sukiyaki Recipe
Pinoy flavors enhance this traditional Japanese dish.
---
Categories
Main Dish, Beef & Del Monte Quick 'n Easy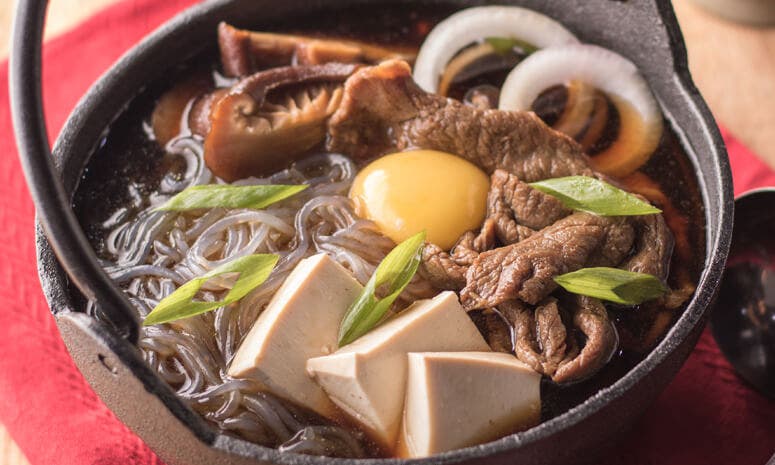 Ingredients
1/2 pouch DEL MONTE Quick 'n Easy BBQ Marinade (200ml)
2 tsp garlic, minced
1/2 tsp pepper, black
300 g beef, sirloin, sukiyaki cut
2 Tbsp oil)
1 1/2 liter beef stock
1/2 pouch DEL MONTE Quick 'n Easy BBQ Marinade (200ml)
1 Tbsp sugar, white
1 cup shiitake mushrooms, fresh, cut into half
1/2 cup onion, white, sliced into rings
2 pack sotanghon, soaked in water
1/2 cup leeks, cut into 2-inch sticks
1 cup tofu, soft, sliced into 2 x 2-inch planks
3 pc egg, beaten
Cooking Tools Needed
Chopping Board
Wooden Spoon
Pot
Procedure
1. Mix the DEL MONTE Quick 'n Easy Barbecue Marinade, garlic, and pepper. Marinate the beef for 5 minutes. Drain and reserve marinade.
2. Heat the oil and brown the meat. Set aside.
3. In the same pot, heat the beef stock, remaining DEL MONTE Quick 'n Easy Barbecue Marinade, sugar, and reserved marinade.
4. When the stock is boiling, add the mushrooms, onions, and drained sotanghon. Simmer for 2 minutes then add the leeks and tofu. When simmering, pour in the beaten eggs then cover the pot for the eggs to set. Add back the cooked beef.
Lusog Notes
This recipe is a source of iron which is needed for normal metabolism and in making red blood cells, which transport oxygen around the body. It also has vitamin A that helps maintain healthy skin and normal vision.
Chef's Tip
Sukiyaki cut beef is very thinly sliced and will absorb the marinade quickly. Marinating the beef longer will make it too salty.
Featured Products
---
You also might be interested in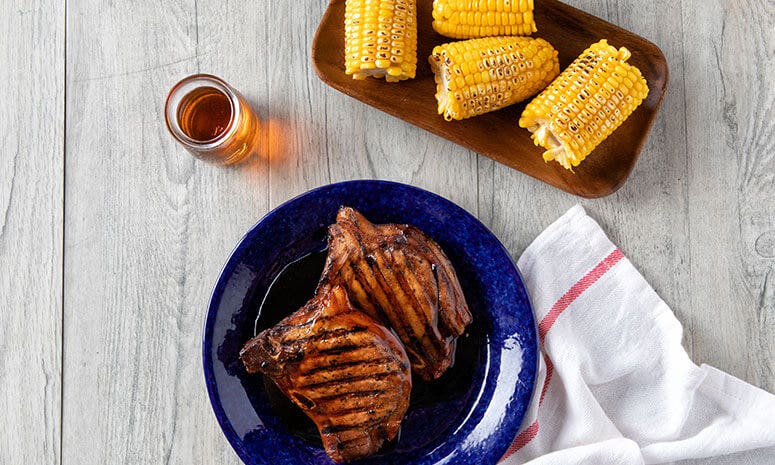 Grilled Honey BBQ Pork Chops Recipe
Surprise the family with a new take on their favorite pork chops!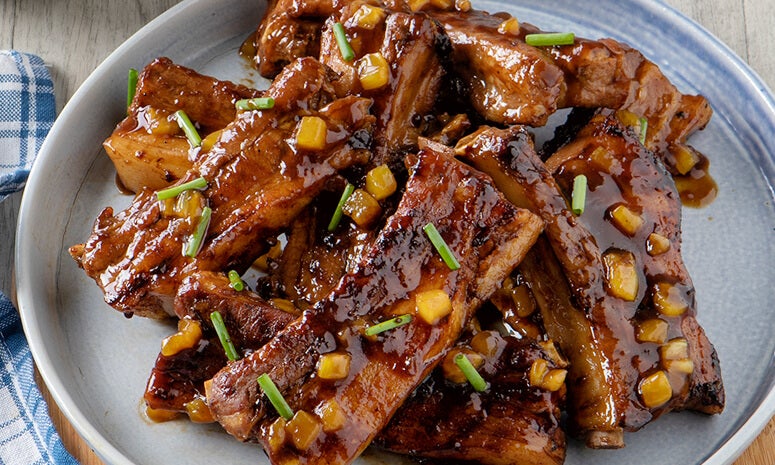 Korean BBQ Pork Ribs Recipe
Enjoy the sweet, savory taste of Korean barbecue in 3 easy steps.