Sweet and Spicy Chicken Caldereta Recipe
Add a sauce-sarap twist to your favorite Caldereta!
---
Categories
Main Dish, Chicken, Del Monte Tomato Sauce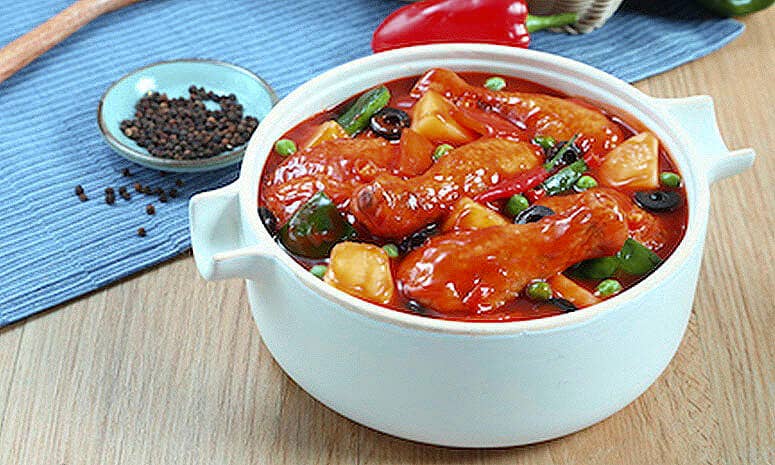 Ingredients
1 Tbsp oil
1/2 cup onion, red, chopped
1 Tbsp garlic, minced
1 kg chicken, thigh and leg, chopped
3 Tbsp soy sauce
1 1/2 cup water
2 pc siling labuyo, minced
2 Tbsp liver spread
1/2 cup DEL MONTE Extra Rich Banana Ketchup (320g)
1 pouch DEL MONTE Original Style Tomato Sauce (200g)
1/2 tsp pepper, black
1 cup potato, cut into chunks then fried
1/2 cup bell pepper, red, sliced into 1-inch diamonds
1/2 cup bell pepper, green, sliced into 1-inch diamonds
1/4 cup black olives, pitted, sliced (optional)
Procedure
1. Sauté onions until translucent. Add the garlic and sauté until fragrant.
2. Add the chicken and sauté until lightly browned. Add the soy sauce. Cook until almost dry, scraping the bottom of the pan to release the browned bits on the bottom of the pot.
3. Add water, siling labuyo, liver spread, DEL MONTE Banana Ketchup, and DEL MONTE Original Style Tomato Sauce. Simmer until the chicken is tender. Season with pepper then add the potato, bell peppers, and olives.
Lusog Notes
This Sweet and Spicy Chicken Caldereta recipe is rich in protein and vitamin A. Protein is necessary for growth and development, while vitamin A helps form and maintain healthy skin, skeletal and soft tissues.
Chef's Tip
Pour off the excess oil from the pot before adding the water and the other liquid ingredients. This step will prevent the sauce from becoming too greasy.
Featured Products
---
You also might be interested in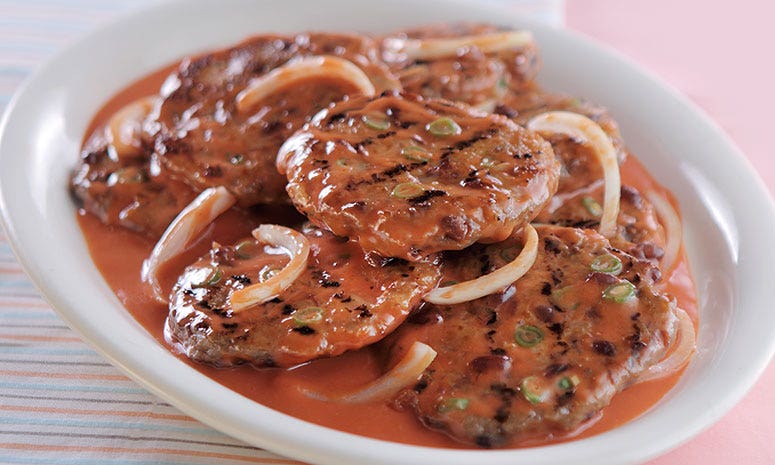 Saucy Chicken Patties Recipe
Try this healthy, saucy version of burger steak!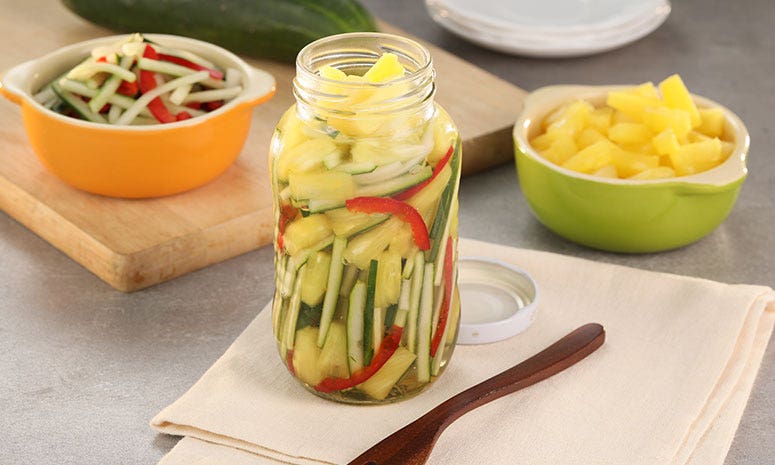 Pineapple Cucumber Atchara Recipe
The popular atchara gets a piña-level up twist!