QNE Kare-Kare Recipe
Cooking beef kare-kare has never been this easy!
---
Categories
Main Dish, Beef, Del Monte Quick 'n Easy, Pinoy Dishes
Cooking Time
2 hrs. and 28 mins.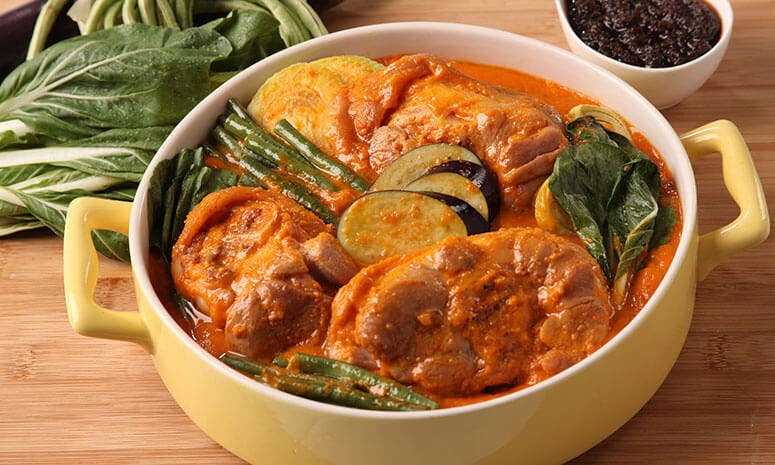 Ingredients
1/2 kg oxtail, cut into serving options
3/4 cup water
1 pack DEL MONTE Quick 'n Easy Kare-Kare Mix (50g)
1 1/3 cup eggplant (optional), sliced
1 cup sitaw/yardlong beans cut-up
- banana heart (optional)
1 bunch pechay Tagalog
Cooking Tools Needed
Chopping Board
Knife
Measuring Cups
Measuring Spoon
Pot
Spatula
Procedure
Put together oxtail and water. Bring to a boil, cover and simmer for 2 hours or until meat is tender. (7,500sec)
Add DEL MONTE Quick N Easy Kare-Kare Mix. Stir and simmer over low heat until sauce thickens, stirring occasionally. (300sec)
Add eggplant, sitaw, and banana heart, if desired, and simmer for 10 minutes or until vegetables are half cooked. Add pechay and simmer for 3 minutes or until vegetables are done. Serve with sautéed bagoong, alamang and rice. (1,080sec)
Lusog Notes
This tasty dish is high in iron needed for red blood cell formation that carries oxygen to all body parts, as well as for normal metabolism. It also has calcium which helps in bone growth and development.
Chef's Tip
To make sure that the oxtail does not have any off aroma, boil them in water for 10 minutes then drain and discard the water. Then boil again with the prescribed amount of water until tender.
Featured Products
---
You also might be interested in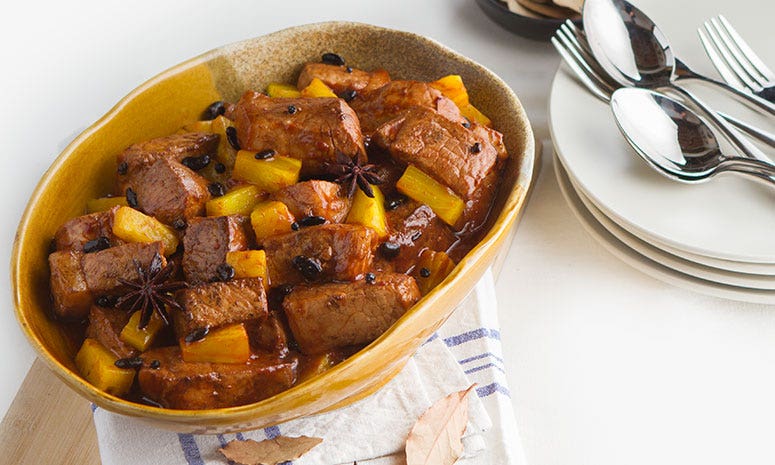 Pinya-Tasty Pork Humba Recipe
Try this Pork Humba recipe made more delicious with Del Monte Pineapple!