Pineapple Steamed Fish Recipe
Your classic steamed fish with a fresh, pina-sustansiya twist.
---
Categories
Main Dish & Seafood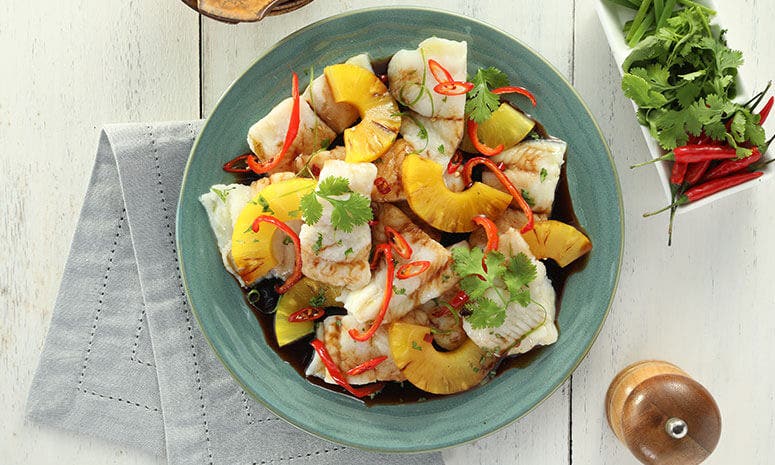 Ingredients
2 kg cream dory fillet
1/2 cup bell pepper, red, cut into strips
1/2 cup spring onion, cut into strips
1/2 cup cilantro, trimmed
1 can DEL MONTE Sliced Pineapple (822g), drained, halved, reserve syrup




Sauce

2 pouch DEL MONTE Quick 'n Easy BBQ Marinade (200ml)
1/4 cup ginger, sliced into strips
2 Tbsp garlic, minced
reserved pineapple syrup
1/2 cup cilantro, chopped
1/2 tsp siling labuyo, chopped
Cooking Tools Needed
Steamer
Chopping Board
Measuring Cups
Fish Turner
Procedure
1. Place the dory fillet in a pyrex dish.
2. Sprinkle with red bell pepper, spring onions, cilantro, DEL MONTE Sliced Pineapple, and steam for 15-20 minutes.
3. While the fish is steaming, mix the ingredients for the sauce and simmer for 5 minutes. .
4. When the fish is cooked, place on a serving plate and pour the sauce over.
Lusog Notes
This recipe is rich in protein, which is essential in growth and development. Protein also helps build and repair body tissues.
Chef's Tip
Do not discard the cilantro stems. They are packed with flavor. Chop them up together with the leaves and add to the sauce to infuse the sauce with the fresh aroma of cilantro.
Featured Products
Del Monte Pineapple Slices 227g
---
You also might be interested in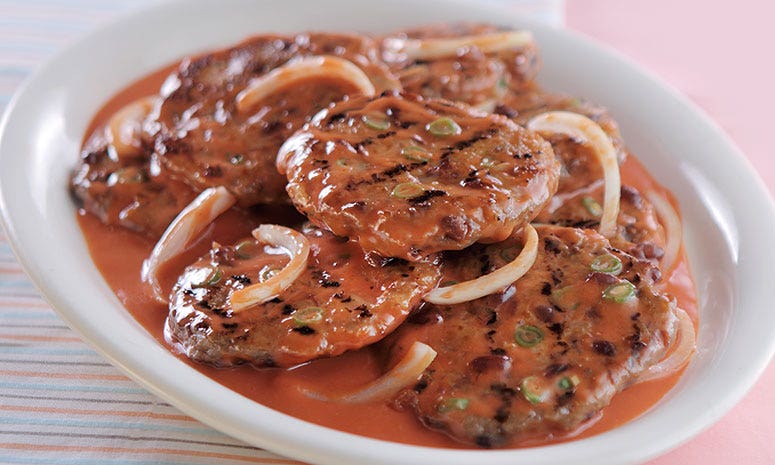 Saucy Chicken Patties Recipe
Try this healthy, saucy version of burger steak!