Pineapple Steamed Fish Recipe
Your classic steamed fish with a fresh, pina-sustansiya twist.
---
Categories
Main Dish & Seafood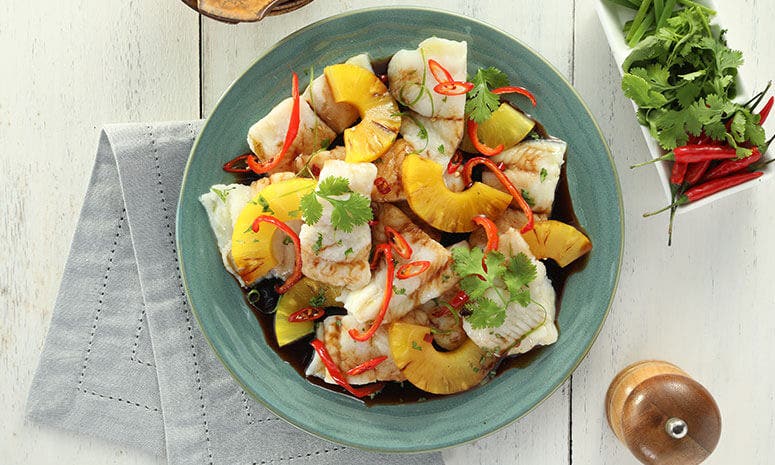 Ingredients
2 kg cream dory fillet
1/2 cup bell pepper, red, cut into strips
1/2 cup spring onion, cut into strips
1/2 cup cilantro, trimmed
1 can DEL MONTE Sliced Pineapple (822g), drained, halved, reserve syrup




Sauce

2 pouch DEL MONTE Quick 'n Easy BBQ Marinade (200ml)
1/4 cup ginger, sliced into strips
2 Tbsp garlic, minced
reserved pineapple syrup
1/2 cup cilantro, chopped
1/2 tsp siling labuyo, chopped
Cooking Tools Needed
Steamer
Chopping Board
Measuring Cups
Fish Turner
Preparation
1. Place the dory fillet in a pyrex dish.
2. Sprinkle with red bell pepper, spring onions, cilantro, DEL MONTE Sliced Pineapple, and steam for 15-20 minutes.
3. While the fish is steaming, mix the ingredients for the sauce and simmer for 5 minutes. .
4. When the fish is cooked, place on a serving plate and pour the sauce over.
---