Herbed Chicken Pasta Recipe
Liven up your dinner menu with this easy, flavorful recipe!
---
Categories
Pasta/Noodles, Chicken, Del Monte Spaghetti Sauce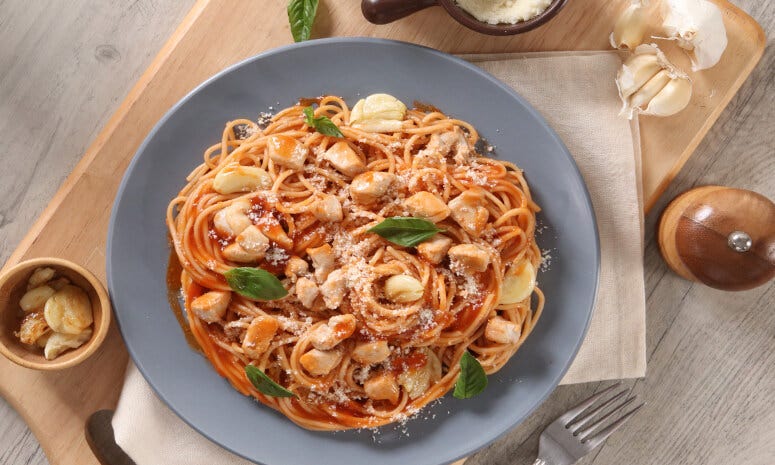 Ingredients
2 Tbsp butter
2 Tbsp garlic, crushed
150 g chicken, breast fillet, cut into cubes
1 pouch DEL MONTE Italian Style Spaghetti Sauce (250g)
1 pc bay leaf/laurel leaf
2 Tbsp parsley (optional), snipped
1/4 cup bell pepper, red, cut into cubes
6 pc basil, fresh (or 1/4 tsp dried basil), cut into strips
1 pack DEL MONTE Spaghetti (175g), cooked
2 Tbsp cheese, grated
Cooking Tools Needed
Chopping Board
Measuring Spoon
Wooden Spatula
Colander
Measuring Cups
Pot
Procedure
1. Sauté garlic in butter until brown. Reserve half of garlic to be fried for topping later. In the same pan, add chicken and sauté for 5 minutes. Add DEL MONTE Italian Style Spaghetti Sauce and remaining ingredients except basil, cooked spaghetti noodles, and cheese. Boil then turn down to simmer for 3 minutes over medium heat.
2. Add basil. Allow to simmer for 2 minutes. Mix with cooked DEL MONTE Spaghetti, cheese and fried garlic. Blend well. Top with more cheese, if desired.
Lusog Notes
This dish is a good source of protein and niacin. Protein is essential for growth, development and repair of body tissues. On the other hand, niacin helps keep the digestive and nervous systems healthy.
Chef's Tip
Dried herbs are granually more concentrated and stronger than fresh herbs. Use 1/3 the amount of fresh herbs to substitute dried herbs.
Featured Products
---
You also might be interested in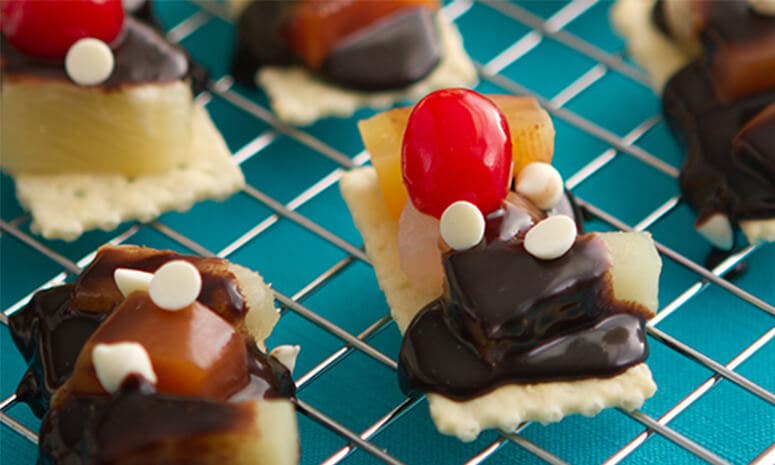 Fruit Cocktail Bars Recipe
Easily whip up dessert in a flash with this recipe!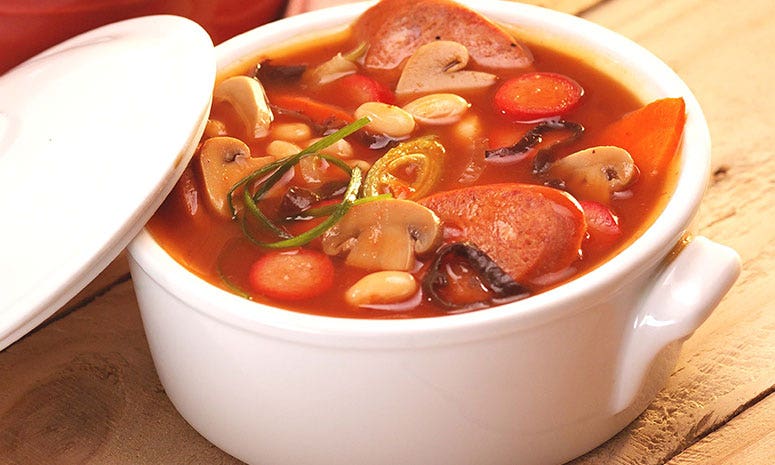 Hungarian Sausage Stew Recipe
Delight the family with this hearty, easy-to-prepare stew.