Five Spice Pork Chop Recipe
---
Categories
Main Dish, Pork & Del Monte Quick 'n Easy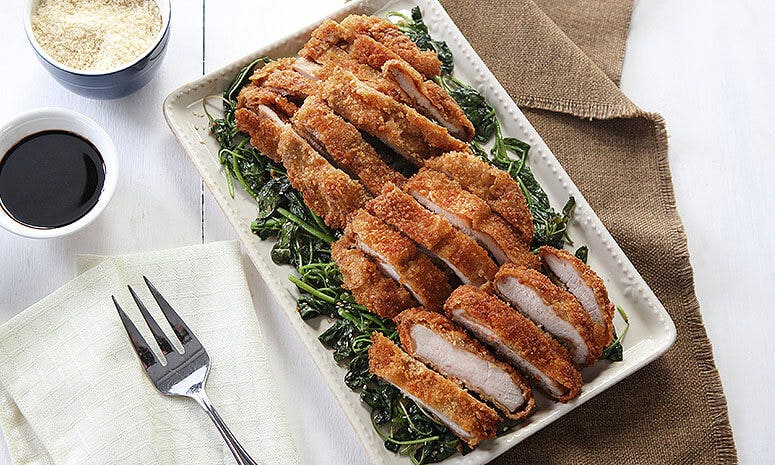 Ingredients
1 pouch DEL MONTE Quick 'n Easy BBQ Marinade (200ml)
2 Tbsp sesame oil
4 cup water
2 cup rice, japanese
1/2 cup onion, white, sliced into thin sticks, 2-inches longr
1/2 cup carrot, sliced into thin sticks, 2-inches long
1/2 cup bell pepper, red, sliced into thin sticks, 2-inches long
1/2 cup bell pepper, green, sliced into thin sticks, 2-inches long
1 cup togue
1/1 cup spinach, chopped
1 Tbsp sesame oil
Procedure
1. Pound pork chop. In a bowl, mix DEL MONTE Quick n Easy Barbecue Marinade and five-spice powder. Marinate pork in the mixture for 30 minutes.
2. Dip each pork in all purpose flour then egg. Lastly dredge each pork in bread crumbs then pan-fry.
3. Sauté the garlic in cooking oil until golden.
4. Add the spinach leaves and sauté until wilted.
5. Add the sesame oil and serve with pork then top with sesame seeds.
Lusog Notes
This dish is high in iron which is essential for normal metabolism and vitamin B1 that supports normal growth and helps the body convert food to energy.
Chef's Tip
Briefly fry the pork chop in hot oil. As soon as they are golden, drain them well. The pounded pork chop is thin so it should cook quickly in the hot oil.
Featured Products
---
You also might be interested in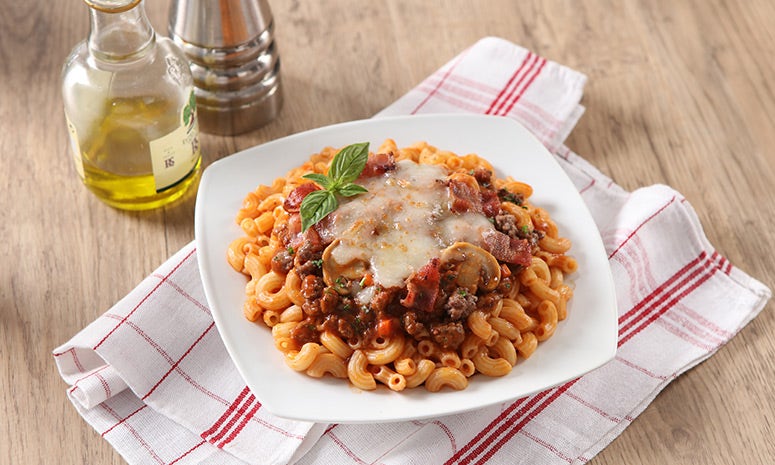 Macaroni with Beef and Mushroom Recipe
Your family will love the classic combination of this dish.