Creamy Sausage Pasta Bake Recipe
This creamy and cheesy pasta will be a hit with kids and adults alike!
---
Categories
Pasta/Noodles, Rice, Pasta, Del Monte Spaghetti Sauce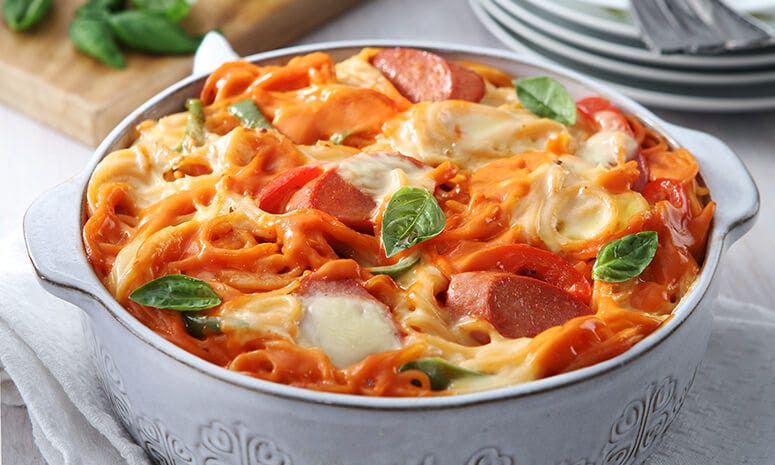 Ingredients
2 Tbsp oil
1 cup onion, red, chopped
2 Tbsp garlic, minced
500 g frankfurters, sliced
1 pouch DEL MONTE Creamy & Cheesy Spaghetti Sauce (900g)
1 cup pasta water
1 tsp salt
1 tsp pepper, black
1/2 cup bell pepper, red, sliced
1/2 cup bell pepper, green, sliced
3/4 pack DEL MONTE Spaghetti (900g), cooked for 7 minutes only
1 1/2 cups melting cheese, grated
1/4 cup basil, fresh, whole
Cooking Tools Needed
Baking Dish
Chopping Board
Grater
Measuring Cups
Measuring Spoon
Mixing Bowl
Pot
Scissors
Spatula
Strainer
Cooking Skills Needed
Baking
Boiling
Mixing
Sautéing
Slicing
Procedure
1. Sauté onion and garlic until aromatic. Add frankfurters and sauté for 5 minutes.
2. Add DEL MONTE Creamy & Cheesy Spaghetti Sauce, pasta water, salt, and pepper. Simmer for 10 minutes.
3. Add bell peppers. Toss cooked DEL MONTE Spaghetti in the sauce.
4. Pour into baking dish and top with cheese. Bake until top is browned.
5. Top with basil and serve.
Lusog Notes
This recipe is a source of protein and calcium. Protein helps in the regulation and maintenance of the body's fluid balance while calcium is important for bone health and in nerve transmission.
Chef's Tip
Tear the basil with your hands. Chopping them with a sharp knife bruises the leaves and will cause the leaves to turn brown.
Featured Products
---
You also might be interested in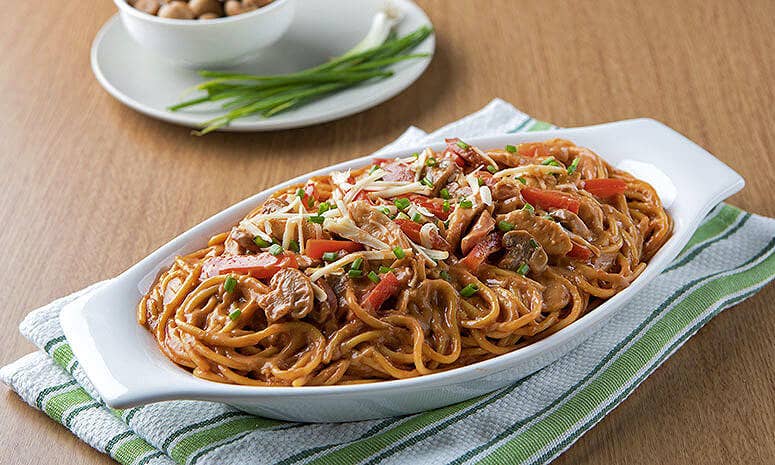 Get into the holiday mood with this rich and hearty pasta dish that you can bring to your Christmas potluck parties!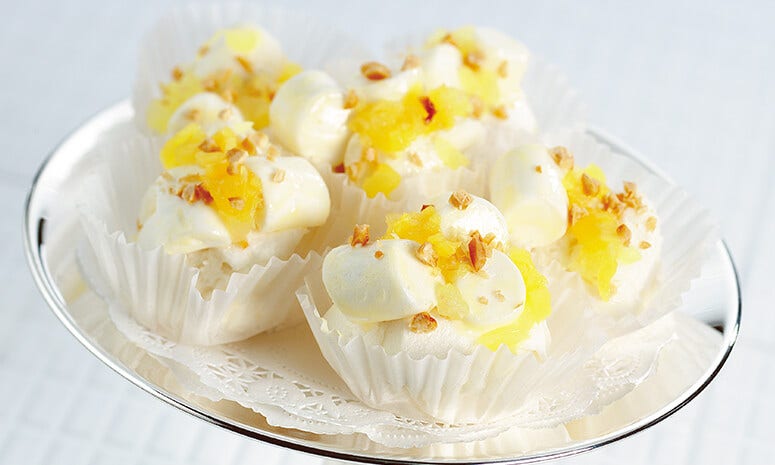 Top off a delicious meal with this unique dessert.