Country Chicken Steak Recipe
You can never go wrong with breaded fried chicken and a side of tasty french fries.
---
Categories
Main Dish, Chicken & Del Monte Quick 'n Easy
Cooking Time
1 hr. and 10 mins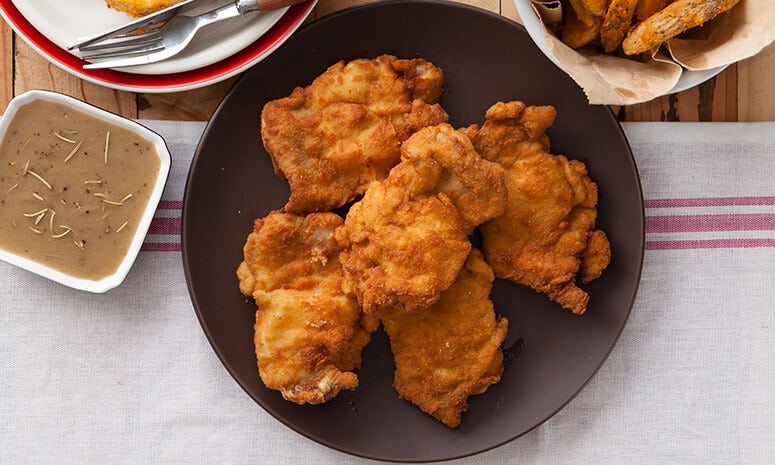 Ingredients



FOR THE CHICKEN

1 kg chicken, thigh fillet
1 pack DEL MONTE Quick 'n Easy Breading Mix (75g)
2 pc egg
2 cup breadcrumbs
12 cup oil, for deep-frying




FOR THE FRIES

250 g potato, sliced to wedges




FOR THE GRAVY

1 pack DEL MONTE Quick 'n Easy Gravy Mix (30g), reserve 1 teaspoon to season fries
1 cup milk, fresh
1 tsp black pepper, cracked
1 tsp rosemary, dried
Cooking Skills Needed
Pounding
Draining
Deep Frying
Procedure
1. For the Chicken: Pound chicken thigh fillet to flatten. Dip the chicken in DEL MONTE Quick 'n Easy Breading Mix. Dip in beaten eggs then in bread crumbs. Deep-fry in hot oil. Drain in paper towels.
2. For the fries: Fry potato wedges until cooked. Drain in paper towels then cool. Fry again until crispy and golden brown. Season with reserved 1 teaspoon of DEL MONTE Quick 'n Easy Gravy Mix.
3. Dissolve the DEL MONTE Quick 'n Easy Gravy Mix in fresh milk. Cook until thick, stirring occasionally, then season with cracked pepper and ground rosemary.
Lusog Notes
This Country Chicken Steak recipe provides iron which is needed for the functioning of enzymes that remove unwanted substances from the body
Chef's Tip
To flatten the chicken without damaging the meat, place the chicken breast in between 2 sheets of plastic or plastic wrap then pound the meat from the center going out to the edges using a rolling pin or mallet.
Featured Products
---
You also might be interested in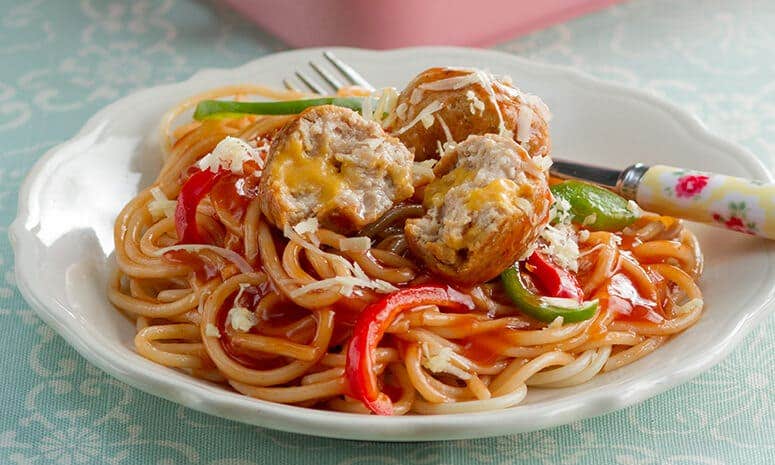 Cheesy Chicken Meatballs Spaghetti Recipe
The whole family's favorite spaghetti made extra special with cheese and chicken meatballs!