Chicken Mechado Recipe
No beef? No problem! The savory mechado is good with chicken too!
---
Categories
Main Dish, Chicken & Del Monte Tomato Sauce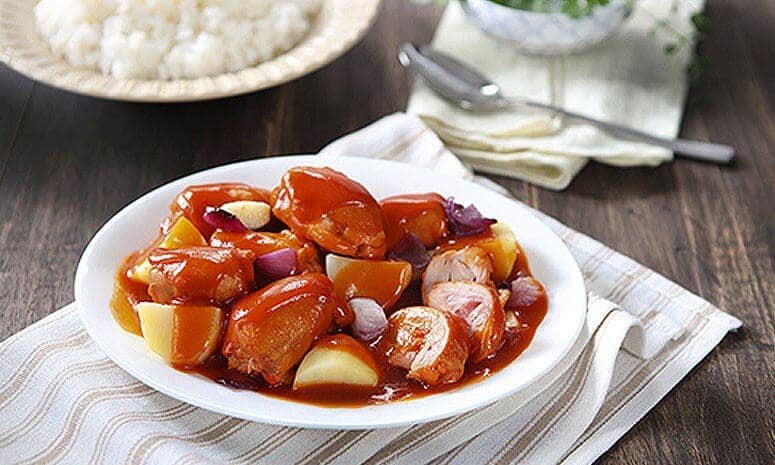 Ingredients
500 g chicken, thigh fillet
6 slices bacon, cut into half
1/2 tsp salt
1/2 tsp pepper, black
1 cup onion, red, quartered
1 1/2 Tbsp garlic, peeled
1 1/2 Tbsp soy sauce
1 pouch DEL MONTE Filipino Style Tomato Sauce (200g)
1 cup potato, cut into chunks
2 Tbsp oil
Cooking Tools Needed
Chopping Board
Measuring Cups
Pot
Crocheting Thread
Measuring Spoon
Spatula
Procedure
1. Season the chicken thigh fillet with salt and pepper. Fill each chicken thigh fillet with bacon. Roll then secure with a toothpick.
2. In a pot, combine chicken rolls, half of onions, garlic, soy sauce, DEL MONTE Filipino Style Tomato Sauce and potatoes. Simmer for 25 minutes, stirring occasionally.
3. In a pan, sauté remaining onion. Pour on top of chicken. Serve hot.
Lusog Notes
This local Chicken Mechado dish provides iron which is essential for normal metabolism. It also has niacin that helps break down nutrients for better use in the body.
Chef's Tip
Mechado comes from the word "mecha" or "wick of a candle". In cooking, this pertains to placing fat inside a piece of meat so that it does not dry out while cooking. In this case, bacon is used not only to keep the chicken moist but also to add a slight smokey flavor to the dish.
Featured Products
---
You also might be interested in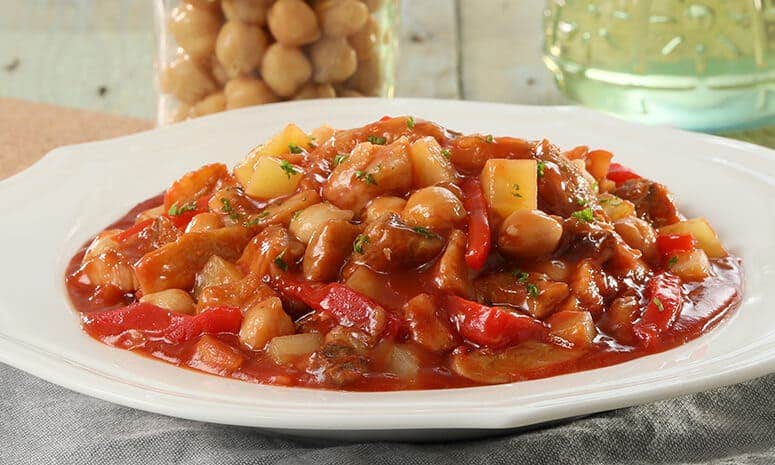 Savor the flavors of Spain with this fish dish that's sure to conquer your taste buds.