Baked Chicken Spaghetti Recipe
Kids will love the sweet and meaty flavor of this spaghetti!
---
Categories
Pasta/Noodles, Chicken, Del Monte Spaghetti Sauce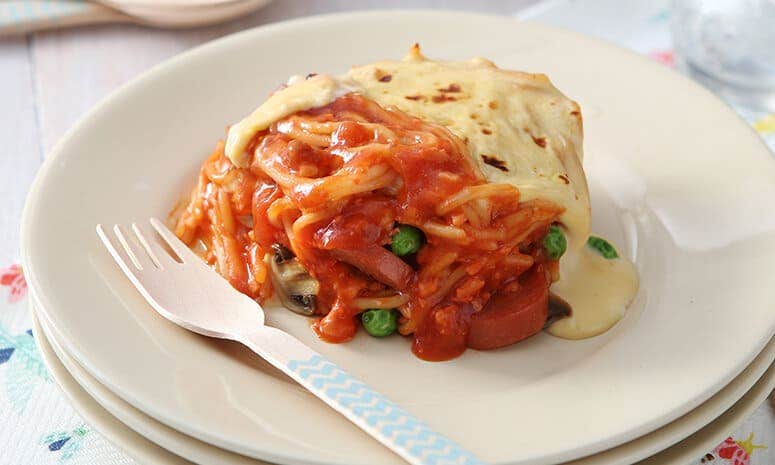 Ingredients
2 Tbsp oil
1 cup onion, white, chopped
1 Tbsp garlic, minced
500 g chicken, ground
1 cup button mushroom, canned (400g), sliced
1 cup chicken hotdog, sliced
1 pouch DEL MONTE Sweet Style Spaghetti Sauce (900g)
1 tsp salt
1/2 cup green peas
1 can milk, evaporated (370ml)
2 Tbsp all-purpose flour
1/2 cup water
1 1/2 cups melting cheese, grated
1 tsp salt
1 pack DEL MONTE Spaghetti (900g), cooked for 7 minutes only
Cooking Tools Needed
Can Opener
Chopping Board
Colander
Measuring Cups
Measuring Spoon
Mixing Bowl
Pot
Rubber Spatula
Strainer
Whisk
Cooking Skills Needed
Baking
Boiling
Sautéing
Simmering
Procedure
1. Sauté onion and garlic until translucent and aromatic.
2. Add ground chicken and sauté until browned. Add mushroom and chicken hotdog then sauté for 2 minutes.
3. Add DEL MONTE Sweet Style Spaghetti Sauce. Season with salt and add green peas. Bring to a boil and simmer.
4. To make cheese sauce, mix all ingredients in a pot and simmer until thick.
5. To assemble, toss the cooked pasta in the sauce and pour into baking pan. Top with cheese sauce then bake until top is browned.
Lusog Notes
This Baked Chicken Spaghetti Recipe is high in protein which is essential for growth, development and repair of body tissues. It is also a source of calcium that is important for bone health and in nerve transmission.
Chef's Tip
You can still serve this dish even without an oven. Simply top the cheese sauce over the tossed pasta. Top with chopped herbs like parsley or basil then serve.
Featured Products
---
You also might be interested in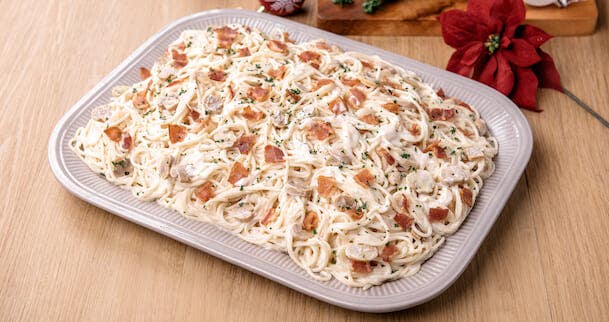 Classic Style Carbonara Recipe
Want to learn how to make great carbonara? Here's an easy recipe!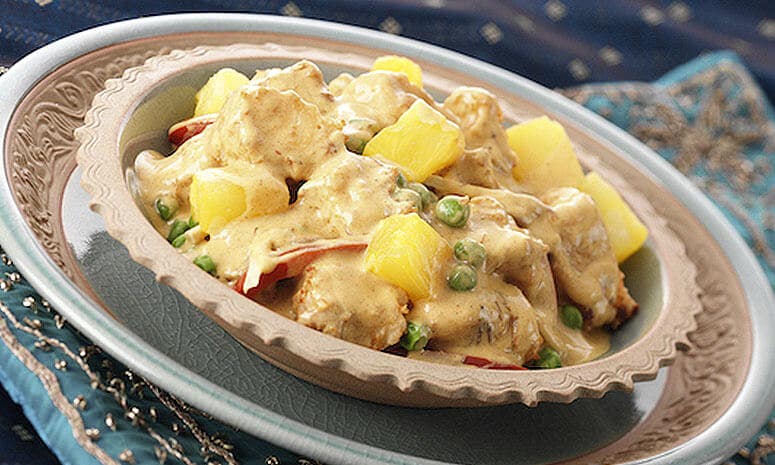 Fish Pineapple Curry Recipe
Take this curry dish to another level with the interesting flavor notes of pineapple!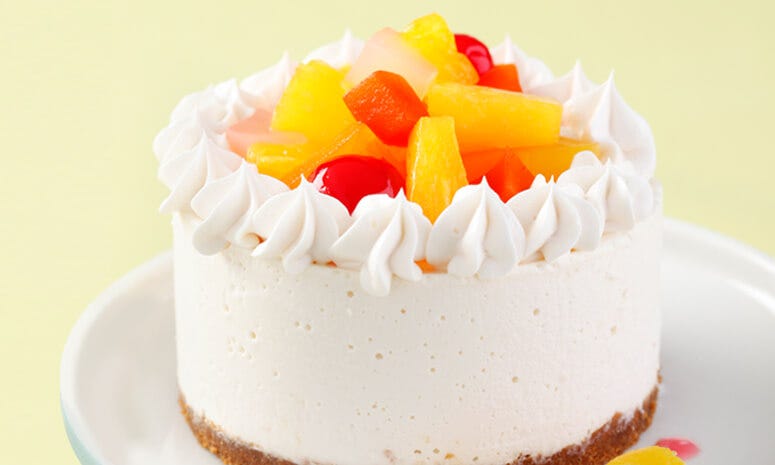 No-Bake Fruity Cheesecake Recipe
Making something special can be so easy. Serve this delicious recipe on your next celebration.