Baked Chicken Spaghetti Recipe
Kids will love the sweet and meaty flavor of this spaghetti!
---
Categories
Pasta/Noodles, Chicken, Del Monte Spaghetti Sauce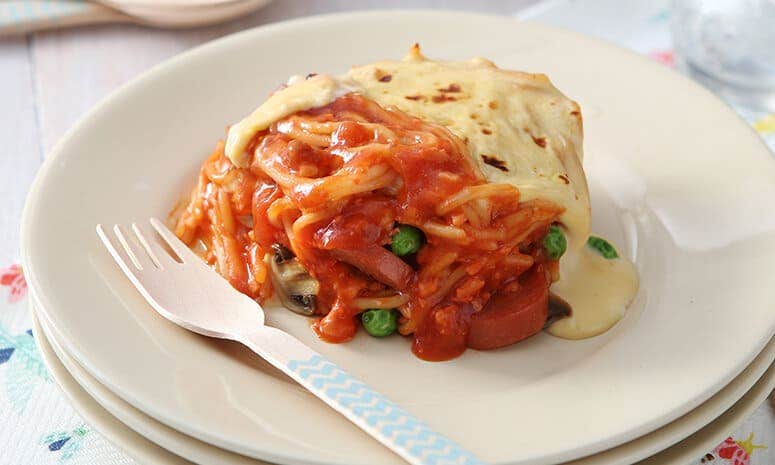 Ingredients
2 Tbsp oil
1 cup onion, white, chopped
1 Tbsp garlic, minced
500 g chicken, ground
1 cup button mushroom, canned (400g), sliced
1 cup chicken hotdog, sliced
1 pouch DEL MONTE Sweet Style Spaghetti Sauce (900g)
1 tsp salt
1/2 cup green peas
1 can milk, evaporated (370ml)
2 Tbsp all-purpose flour
1/2 cup water
1 1/2 cups melting cheese, grated
1 tsp salt
1 pack DEL MONTE Spaghetti (900g), cooked for 7 minutes only
Cooking Tools Needed
Can Opener
Chopping Board
Colander
Measuring Cups
Measuring Spoon
Mixing Bowl
Pot
Rubber Spatula
Strainer
Whisk
Preparation
1. Sauté onion and garlic until translucent and aromatic.
2. Add ground chicken and sauté until browned. Add mushroom and chicken hotdog then sauté for 2 minutes.
3. Add DEL MONTE Sweet Style Spaghetti Sauce. Season with salt and add green peas. Bring to a boil and simmer.
4. To make cheese sauce, mix all ingredients in a pot and simmer until thick.
5. To assemble, toss the cooked pasta in the sauce and pour into baking pan. Top with cheese sauce then bake until top is browned.
Featured Products
---