Thai Fish Curry Recipe
This special Thai dish is ready in just 3 easy steps!
---
Categories
Main Dish, Seafood, Del Monte Quick 'n Easy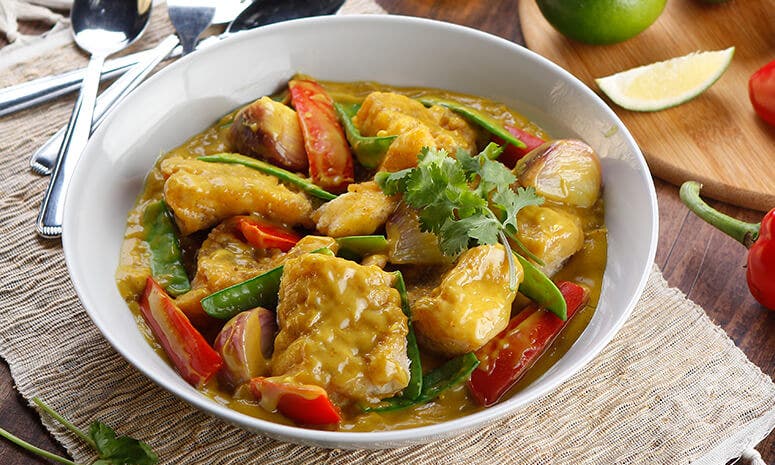 Ingredients
1 kg dorado fillet
1/2 tsp salt
1/4 tsp pepper, black
1 cup cornstarch
3 Tbsp oil
1/2 cup onion, red, quartered
1/2 cup bell pepper, red, paysanne, 1 1/2-inch long x 3/4-inch wide
1/2 cup snap peas/chicharo, snap both ends
1 pack DEL MONTE Quick 'n Easy Curry Mix (40g)
1 pack DEL MONTE Quick 'n Easy Gata Mix (40g)
1 3/4 cup water
2 Tbsp lime juice
2 Tbsp sugar, brown
1 1/2 Tbsp patis
1/2 cup cilantro
Procedure
1. Season fish with salt and pepper on both sides. Dredge in cornstarch then fry. Set aside.
2. Sauté onion, bell pepper, and snap peas until color is bright. Set aside.
3. Dissolve the DEL MONTE Quick n Easy Curry Mix and DEL MONTE Quick'n Easy Gata Mix in water then pour into wok. Add lime juice, brown sugar, and patis then simmer for 2 minutes then add cilantro. Add the vegetables and fish. Serve.
Lusog Notes
This Thai Fish Curry dish is rich in protein that helps build and repair body tissues and iron, which plays a role in the proper functioning of the immune system.
Chef's Tip
Dorado fillet is a firm, white fish which has a neutral taste that will go well with the curry sauce. If dorado is not available, choose a neutral tasting fish such as tilapia or dory fillet.
Featured Products
---
You also might be interested in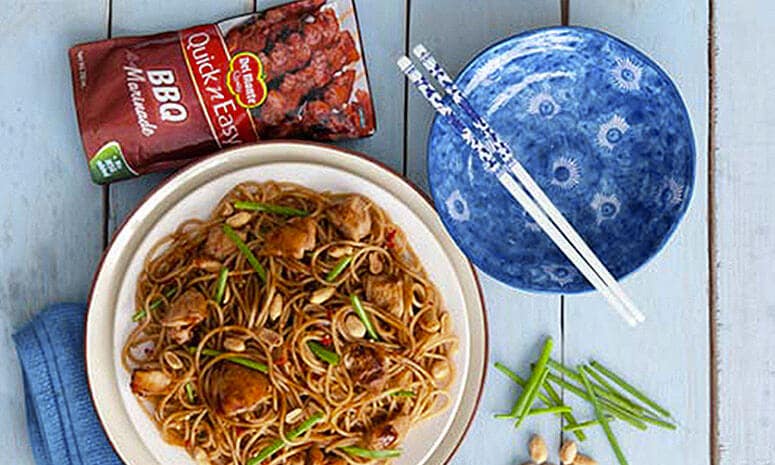 Sesame Soy Chicken Noodles Recipe
This quick and easy Asian inspired dish will be the star of your next celebration.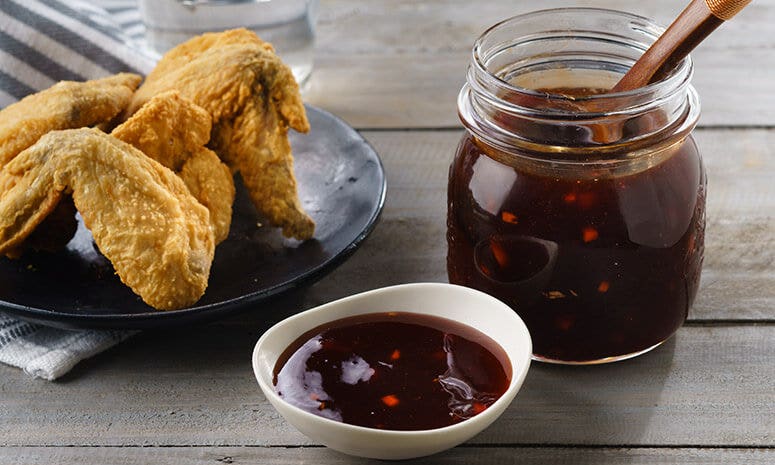 Honey Garlic Sauce Recipe
An amazing 4-ingredient sauce recommended for your fried chicken.