Szechuan Pork Recipe
Savor the flavors of this classic oriental dish.
---
Categories
Main Dish, Pork, Del Monte Tomato Sauce
Ingredients
400 g pork, lomo/tenderloin, cut into bite size cubes
1 Tbsp soy sauce
- salt, to taste
1 Tbsp cornstarch
- oil, for frying
1 pouch DEL MONTE Original Style Tomato Sauce (115g)
2 tsp DEL MONTE Red Cane Vinegar
2 Tbsp rice wine
1 cup water
2 Tbsp soy sauce
- salt, to taste
- pepper, to taste
2 tsp oil
1/3 cup garlic, crushed
1/4 cup onion, sliced
3 pc siling labuyo, seeded and crushed
1/2 tsp ginger, finely chopped
1 cup carrot, sliced
1 tsp tenga ng daga, soaked
1/4 cup labong/bamboo shoot, boiled and squeezed
1/3 cup bell pepper, green, cut into strips
1 Tbsp cornstarch, dissolved with 1/2 Tbsp water
6 cup rice, cooked
Procedure
1. Season pork with soy sauce and salt. Sprinkle with cornstarch. Fry until lightly brown. Set aside.
2. In a bowl, combine all ingredients for sauce. Set aside.
3. Sauté garlic, onions, siling labuyo, ginger, pork, and all vegetables. Cook for 1 minute. Add sauce ingredients. Bring to a boil. Add cornstarch. Simmer until sauce thickens. Serve over steaming rice.
Lusog Notes
This Szechuan Pork recipe is rich in vitamin A which protects one from infections by keeping the immune system healthy. It is also a source of vitamin B1 that helps convert carbohydrates to energy and helps the nervous system function properly.
Chef's Tip
Lomo or tenderloin is the best cut for this dish as it is tender and is good for quick cooking.
Featured Products
---
You also might be interested in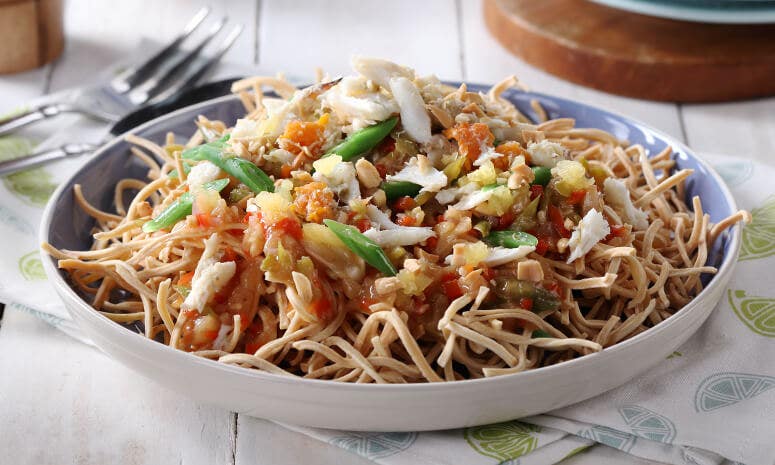 Crunchy Crab Noodles Recipe
Try this piña-level up twist to pancit canton.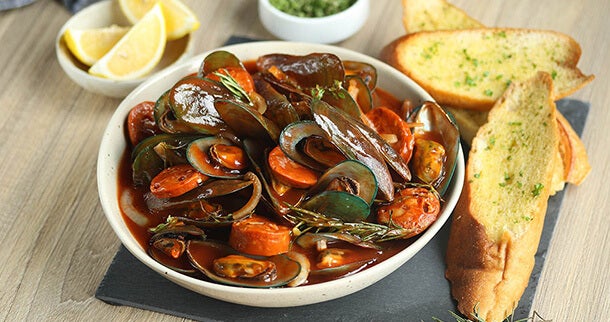 Mussels and Chorizo in Herbed Tomato Sauce Recipe
An easy, gourmet fusion of flavors from Chef JP Anglo!