Piña Bistek Recipe
Bistek gets a taste and nutrition upgrade with pineapple tidbits. Great for everyday meals!
---
Categories
Main Dish, Beef & Del Monte Pineapple
Cooking Time
1 hr and 20 mins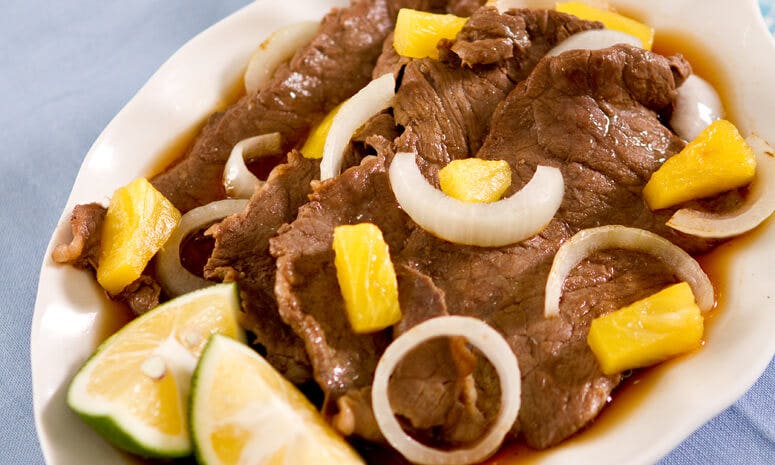 Ingredients
500 g beef, sirloin, sliced tapa style



FOR THE MARINADE

1/3 cup garlic, finely crushed
2 Tbsp soy sauce
1 Tbsp calamansi juice
1/4 tsp pepper, black
reserved pineapple syrup
1/4 cup oil
1/3 cup onion, sliced into rings
3 Tbsp soy sauce
1/4 tsp pepper, black
1 Tbsp calamansi juice
1 can DEL MONTE Pineapple Tidbits (432g), drained, reserve syrup
Cooking Tools Needed
Chopping Board
Measuring Cups
Measuring Spoon
Cooking Skills Needed
Marinating
Sautéing
Simmering
Slicing
Procedure
1. Marinate beef for 1 hour in the refrigerator. Drain and reserve marinade.
2. Fry beef until tender. Set aside.
3. In the same pan, sauté onion. Add soy sauce, pepper, calamansi juice, and remaining marinade. Simmer for 2 minutes. Add DEL MONTE Pineapple Tidbits and fried beef. Bring to a boil and allow to simmer for 5 minutes.
Lusog Notes
This Piña Bistek recipe contains iron, which is essential for normal metabolism and circulation.
Chef's Tip
When beef is properly browned, it gives a deeper meat flavor to the dish. Fry the sirloin in batches so that it browns properly.
Featured Products
---
You also might be interested in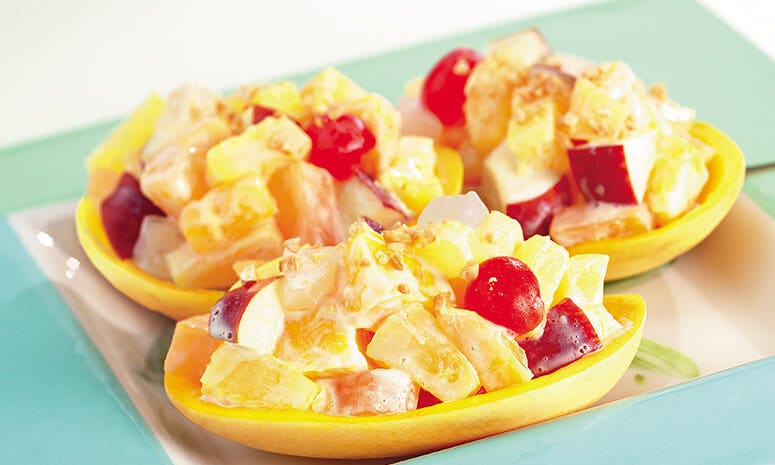 Fiesta Mango Salad Recipe
Add a different twist to your usual fruit salad. Apples, mango, and cashews give it a different feel.