Chunky Chicken Spaghetti Recipe
Chunky on flavor and nutrients!
---
Categories
Pasta/Noodles, Chicken, Pasta, Del Monte Spaghetti Sauce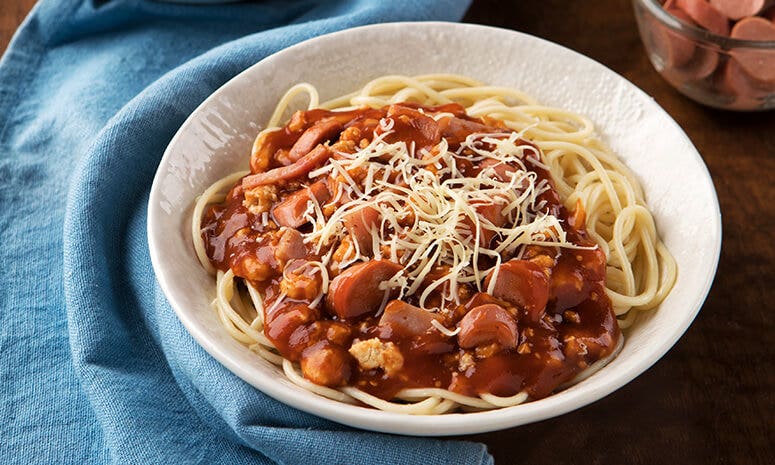 Ingredients
2 Tbsp butter
1 Tbsp garlic, crushed
1/4 cup onion, red, chopped
250 g chicken, ground
100 g chicken ham, cooked and cut into strips
1 pouch DEL MONTE Sweet Style Spaghetti Sauce (500g)
1/2 tsp salt
1/2 tsp sugar, white
1/2 cup chicken sausage, vienna, (or hotdog), drained and sliced diagonally
3/4 pack DEL MONTE Spaghetti (400g), cooked
1/2 cup cheese, grated
Cooking Tools Needed
Chopping Board
Measuring Cups
Measuring Spoon
Pot
Wooden Spatula
Procedure
1. Sauté garlic, onion, ground chicken and ham in butter. Add DEL MONTE Sweet Style Spaghetti Sauce, salt and sugar. Bring to a boil and turn down to simmer for 10 minutes.
2. Add sausage and simmer for another 2 minutes.
3. Pour over cooked DEL MONTE Spaghetti. Top with grated cheese.
Lusog Notes
This Chunky Chicken Spaghetti recipe is a good source of protein that is needed for growth, development and the repair of body tissues. Protein is also necessary for the regulation of body processes.
Chef's Tip
To bring out the flavor of the meat, make sure to properly brown it while sautéing before adding any liquid.
Featured Products
---
You also might be interested in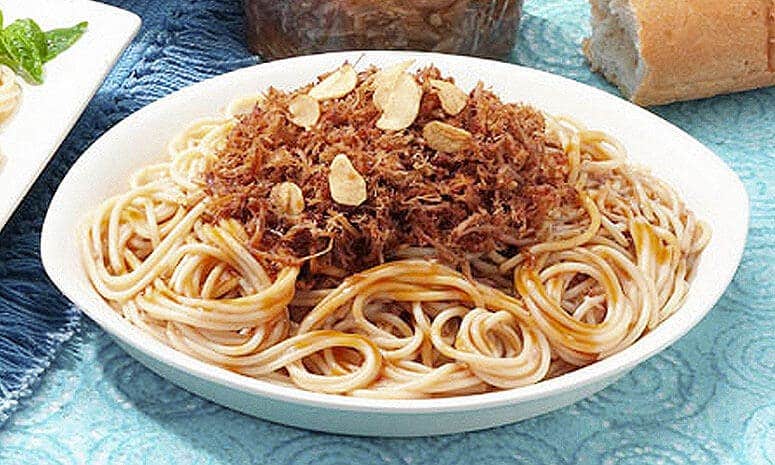 Enjoy the classic flavors of Adobo with spaghetti!