Beef With Two Kinds of Mushroom Recipe
Try this sauce-sarap combination of beef and mushroom!
---
Categories
Main Dish, Beef, Del Monte Tomato Sauce
Cooking Time
1 hr. and 9 mins.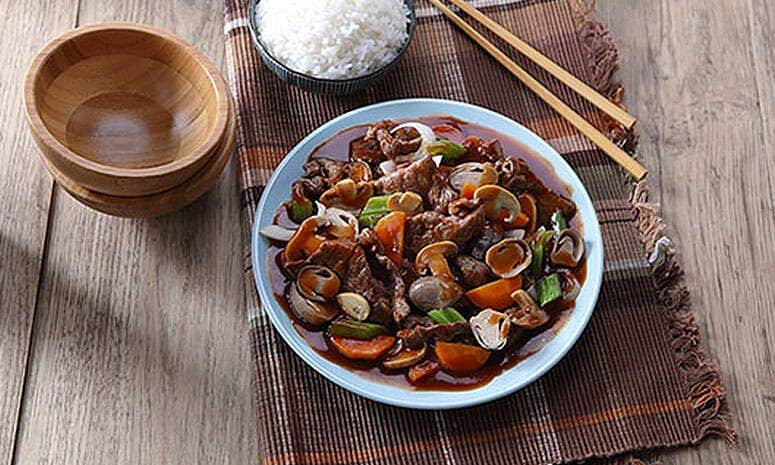 Ingredients
300 g sliced 1/8-inch thick then cut into wide strips
1 2/3 Tbsp soy sauce
1/8 tsp pepper, black
2 Tbsp oil
1 1/2 Tbsp garlic, crushed
1/3 cup onion, white, sliced
2/3 cup carrot, sliced into half moons
3/4 cup button mushroom, canned, drained (reserve liquid) and each piece sliced into 3
1/2 cup straw mushroom, canned (425g), canned, drained then slice each piece in half
1 pouch DEL MONTE Original Style Tomato Sauce (200g)
2/3 cup water
1 1/4 Tbsp soy sauce
3/4 tsp sugar, white
3/4 cup celery, sliced diagonally 1-inch long
Cooking Tools Needed
Chopping Board
Measuring Cups
Measuring Spoon
Pot
Spatula
Procedure
1. Marinate beef for 30 minutes. Drain and reserve marinade.
2. Fry beef in batches in oil until cooked. Set aside.
3. Using the same pan, add 1 Tbsp oil if needed and sauté garlic, onion, and carrots until carrots are tender. Add mushrooms and cook for 3 minutes. Set aside.
4. In the same pan, combine marinade, reserved mushroom liquid, DEL MONTE Original Style Tomato Sauce, water, soy sauce, and sugar. Bring to boil then simmer covered for 10 minutes over low heat.
5. Add meat and vegetable mixture. Simmer for another 5 minutes. Add celery. Simmer for 1 minute.
Lusog Notes
This Beef With Two Kinds of Mushroom Recipe is high in iron that is needed for normal metabolism and vitamin A which helps maintain healthy skin and normal vision.
Chef's Tip
Cooking the meat, vegetables, and sauce separately makes sure that they are done properly and are not overcooked.
Featured Products
---
You also might be interested in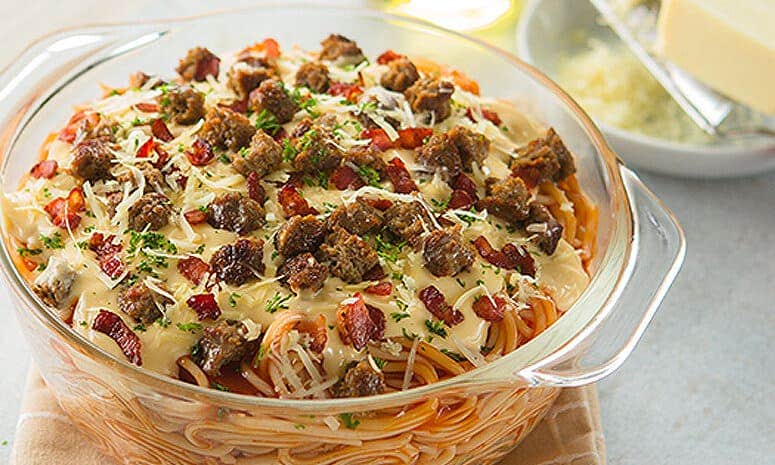 Bacon Cheeseburger Pasta Recipe
Prepare this easy recipe for your next potluck!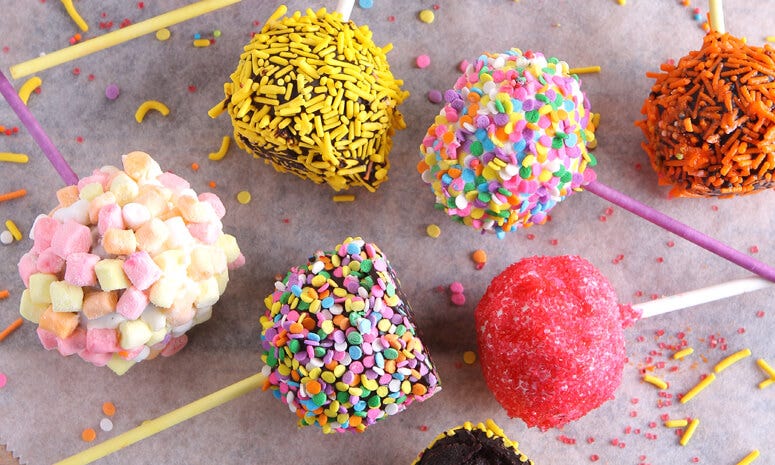 This fun recipe is so easy, even kids can do it.