Tom Yum Goong Recipe
Impress your family with this easy take on the traditional Thai dish, made even heartier with Del Monte Tomato Sauce.
---
Categories
Main Dish, Seafood & Del Monte Tomato Sauce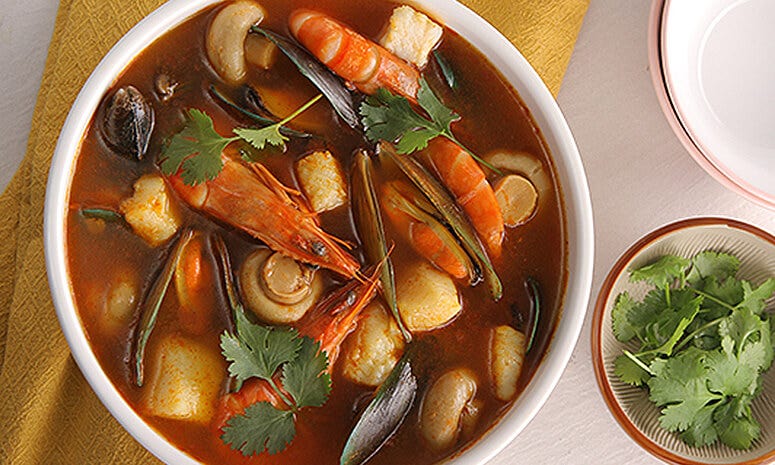 Ingredients



FOR THE TOM YUM PASTE

3 pc sibuyas Tagalog/shallots, peeled
1 Tbsp garlic, peeled
1/4 cup lemongrass, chopped
2 Tbsp yellow ginger, chopped
1/4 cup cilantro stem, chopped
2 Tbsp patis
1/4 cup lime juice

3 tsp sugar, brown
2 Tbsp oil
4 cup water
1 Tbsp sinigang mix
200 g cream dory fillet, cut into 2-inch cubes
200 g mussels (tahong)
200 g shrimp, peeled, deveined, tail on
1 1/4 cup button mushroom, canned (400g)
2 Tbsp cilantro, for garnishing
Preparation
1. In a blender, mix all ingredients for the tom yum paste until it turns into a thick purée or mash.
2. Sauté tom yum paste over medium heat for 5 minutes. Add water, sinigang mix, and DEL MONTE Tomato Sauce. Bring to boil then simmer for 10 minutes over low heat.
3. Add tahong, dory fillet, shrimp, and mushrooms. Let it boil for 5 minutes .
4. Top with cilantro before serving.minutes .
Featured Products
---