Pina Colada Overnight Oats Recipe
An exciting breakfast that you can enjoy on-the-go.
---
Categories
Main Dish, Fruit & Del Monte Pineapple
Cooking Time
8 hrs. and 3 mins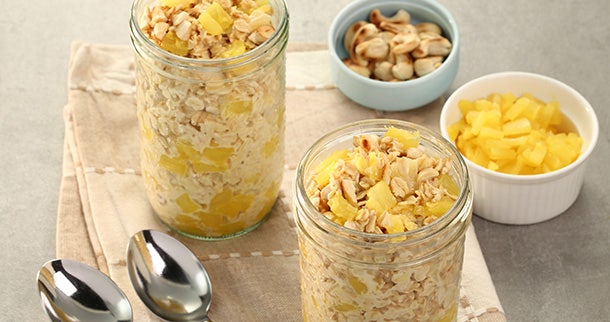 Ingredients
1/2 cup milk, low-fat
1/4 cup condensed milk
1/2 cup coconut milk
11/2 cup coconut milk
1 can DEL MONTE Crushed Pineapple (227g)
1 cup rolled oats
1/4 cup cashew nuts, toasted, roughly chopped
Cooking Tools Needed
Chopping Board
Measuring Cup
Measuring Spoon
Preparation
1. In a bowl, combine all ingredients except cashew nuts.
2. Place in the chiller overnight.
3. Top with cashew nuts. Serve.
---