Taco Casserole Recipe
Make your own delicious tacos at home with this easy recipe.
---
Categories
Pasta/Noodles, Beef, Pasta, Del Monte Spaghetti Sauce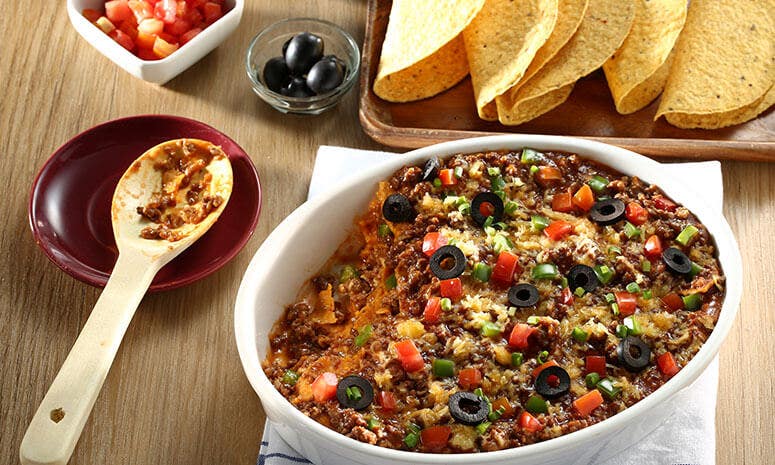 Ingredients
2 Tbsp oil
1/4 cup garlic, crushed
2 cups onion, chopped
1 1/2 kg beef, ground
2 cups water
1 Tbsp salt
1 1/2 Tbsp hot sauce
1 pouch DEL MONTE Sweet Style Spaghetti Sauce (900g)
3 cup black olives, pitted, sliced
3 cups bell pepper, green, diced
48 pcs taco shells
8 cups cheese, coarsely grated
2 cups tomato, seeded and diced
1/2 cup green onions, chopped
Cooking Tools Needed
12" x 8" Rectangular Pan
Chopping Board
Measuring Cups
Measuring Spoon
Spatula
Preparation
1. Sauté garlic, onion, and beef. Add water, salt, and hot sauce. Simmer for 5 minutes. Add DEL MONTE Sweet Style Spaghetti Sauce, 1/4 cup olives and bell pepper. Simmer for 5 minutes. Set aside.
2. Layer half of taco on bottom of greased 12 x 8-inch pan. Cover with half of spaghetti sauce mixture and cheese. Repeat layering with the remaining ingredients. Bake in pre-heated oven at 350°F for 10 minutes. Top with remaining olives, tomatoes, and green onions. Serve.
Featured Products
---