Fish & Pasta with Red Cream Sauce Recipe
A seafood delight perfect for any get-together.
---
Categories
Pasta/Noodles, Seafood, Del Monte Spaghetti Sauce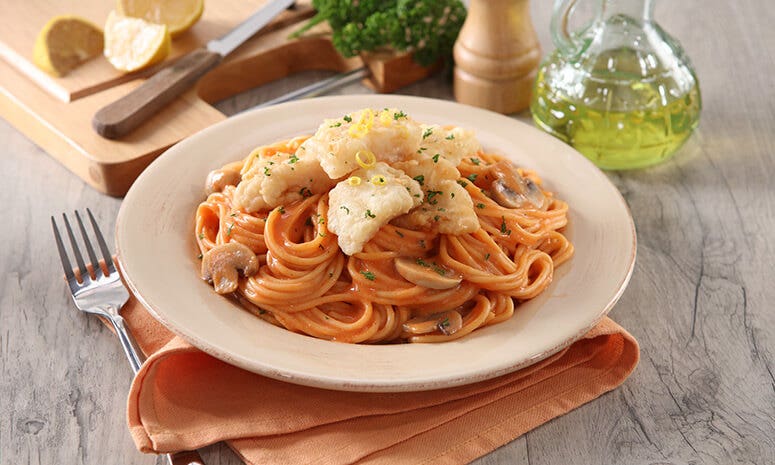 Ingredients
1 2/3 Tbsp lemon juice
1/2 tsp salt
1/4 tsp pepper, black
8 clove garlic, crushed
1/8 cup parsley
420 g tilapia, fillet, cut into small chunks
1/3 cup cornstarch
3 Tbsp oil for browning
2 Tbsp olive oil
1 head garlic, chopped
1 can button mushroom, canned (400g), drained and sliced
1/2 cup rice wine
1/2 cup water
1 pouch DEL MONTE Filipino Style Spaghetti Sauce (500g)
- salt, to taste
3/4 cup all-purpose cream
1 pack DEL MONTE Spaghetti (400g), cooked
Cooking Tools Needed
Chopping Board
Measuring Spoon
Spatula
Measuring Cups
Pot
Preparation
1. Combine all ingredients for marinade then marinate fish for 15 minutes.
2. Coat the fish with cornstarch. Fry until golden brown. Set aside.
3. Sauté garlic and mushrooms in olive oil. Add rice wine. Simmer uncovered for 2 minutes.
4. Add water, DEL MONTE Filipino Style Spaghetti Sauce, and salt to taste. Cover and simmer for 10 minutes, stirring occasionally.
5. Add all-purpose cream. Heat for 2 minutes (do not boil). Pour over or mix with DEL MONTE Spaghetti.
6 Arrange fried fish on pasta then top with reserved lemon zest.
Featured Products
---