Grilled BBQ Chicken and Pineapple Rice Burrito Recipe
Here's a roadtrip ready snack from Chef JP Anglo
---
Categories
Main Dish, Chicken, Del Monte Quick 'n Easy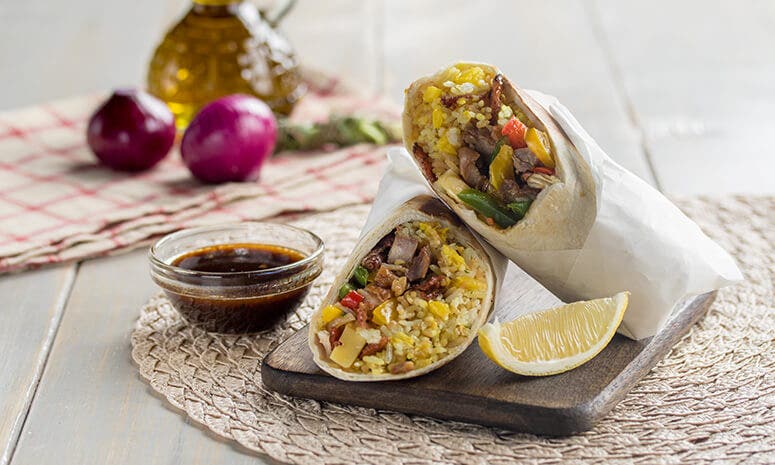 Ingredients



VEGETABLES

2 Tbsp Contadina Pure Olive Oil
1/2 cup bell pepper, yellow ,cut into half
1/2 cup bell pepper, green,cut into half
1/2 cup bell pepper, red,cut into half
1 cup onion, red,quartered




PININYAHAN RICE

2 Tbsp Contadina Pure Olive Oil
1/4 cup garlic,minced
1/2 tsp salt
3 cup rice,cooked
1/2 tsp pepper, black
8 pc flour tortilla (8-inch)
1/2 cup cheese, processed,cut into 1/4-inch thick and 2 1/2-inch long
200g bacon,crispy fried bacon bits
Cooking Tools Needed
Can Opener
Chopping Board
Grill Pan
Knife
Measuring Cups
Measuring Spoon
Pot
Rubber Spatula
Scissor
Tongs
Wok
Preparation
1. In a pot, add a bit of Contadina Pure Olive Oil then sauté onion and lemongrass then add the chicken skin side down.
2. Add DEL MONTE Quick n Easy BBQ Marinade and water, cover and wait for it to boil. .
3. Remove chicken from the pot, then add slurry into the sauce .
4. Grease grill pan with Contadina Pure Olive Oil and pan-grill chicken then set aside.
5. In a separate grill pan, heat Contadina Pure Olive Oil then grill the vegetables. Once charred, set it aside.
6. For the Pininyahan Rice: Sauté garlic in Contadina Pure Olive Oil in a wok until golden brown then season with salt.
7. Add cooked rice, season with pepper then add DEL MONTE Crushed Pineapple. Mix until well incorporated.
8. Slice grilled chicken and vegetables.
9. Get 1 piece of tortilla. Place 1/2 cup of rice, 3 pieces of chicken, grilled bell peppers, onion, cheese, and bacon. Add some sauce. Tuck both sides then roll forward to make a tight roll.
10. Heat burrito in a pan or grill pan over medium-high heat to slightly crisp tortilla. Wrap with wax paper. Serve with the remaining marinade for the sauce.
---