Steamed Carrot Cake Recipe
No need for an oven to make this classic cake!
---
Categories
Dessert, Fruit, Del Monte Pineapple
Cooking Time
1 hr. and 34 mins.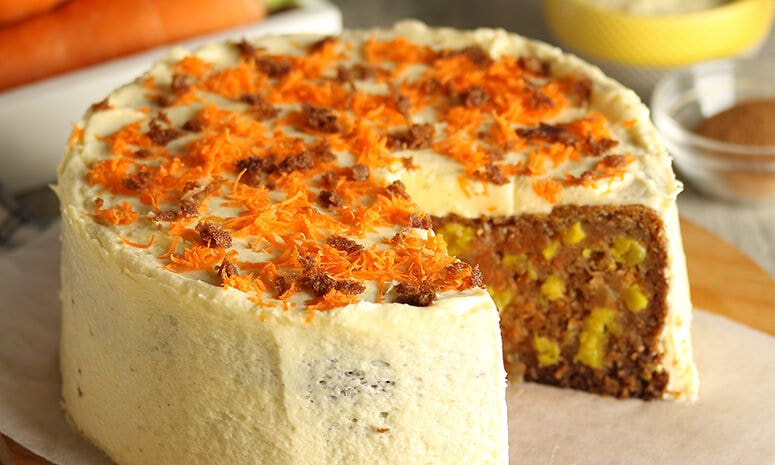 Ingredients
1 tsp oil
1/4 cup all-purpose flour
3 pc egg
1 cup oil
1 tsp vanilla extract
1 cup sugar, brown
3/4 cup sugar, white
2 cup carrot, grated
1 can DEL MONTE Crushed Pineapple (227g), drained
2 cup all-purpose flour
2 tsp baking soda
1 tsp baking powder
1/2 tsp salt
2 tsp cinnamon
1 cup butter
1 cup cream cheese
2 cup sugar, powdered
Cooking Tools Needed
Grater
7 1/2-inch Round Pan
Mixing Bowl
Rice Cooker
Preparation
Grease 7 1/2-inch round pan with oil then dust with flour. Base with parchment paper if available.
Mix eggs, oil, and vanilla extract in a mixing bowl. Add brown sugar, white sugar, carrot, and DEL MONTE Crushed Pineapple. Set aside.
In another bowl, mix the all-purpose flour, baking soda, baking powder, salt, and cinnamon.
Mix the wet to the dry ingredients.
Pour batter onto the pan. Steam for 1 hour and 20 minutes.
Frosting: Soften butter before adding cream cheese.
Add powder sugar. Mix in high speed.
---