One Pot Chicken Pastel Recipe
This Chicken Pastel is so easy, you only need one pot!
---
Categories
Pasta/Noodles, Chicken, Pasta, Del Monte Pasta, Del Monte Spaghetti Sauce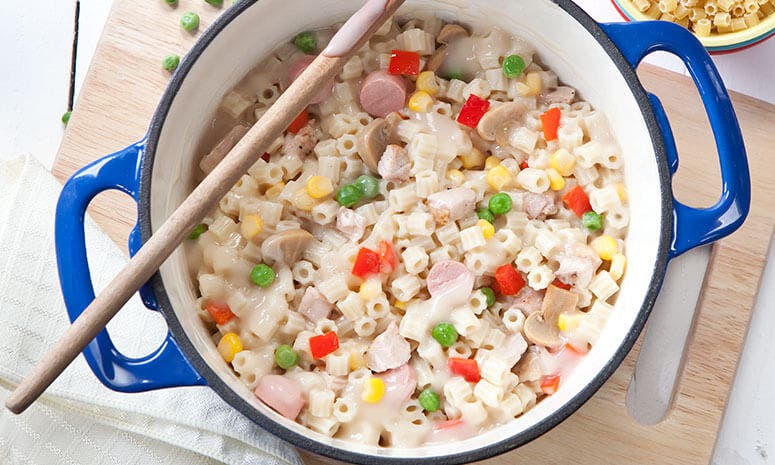 Ingredients
3/4 cup bell pepper, red, cut diagonally
1/2 cup onion, red, chopped
1 cup button mushroom, canned, sliced into quarters
300 g chicken, thigh fillet, cut into cubes
1 cup chicken sausage, vienna, sliced diagonally
1 cup whole kernel corn, canned
1 cup green peas
6 cup water
1 1/2 pc chicken bouillon cube
1 pack DEL MONTE Salad Macaroni (400g)
2 pouch DEL MONTE Carbonara Sauce (200g)
1 cup cheese, processed, grated
1/4 cup margarine
1/2 tsp salt
1/2 tsp pepper, black
Cooking Tools Needed
Chopping Board
Measuring Cups
Pot
Spatula
Preparation
1. In a pot, mix all ingredients except DEL MONTE Carbonara Sauce, cheese, margarine, salt, and pepper. Bring to a boil then simmer for 10 minutes. Stir occasionally.
2. Once the macaroni and chicken are cooked, add DEL MONTE Carbonara Sauce, cheese, margarine, salt and pepper. Simmer for 2 minutes then turn off heat. Serve.
---