Vietnamese Spring Rolls Recipe
Light but flavorful, it's the perfect snack or side!
---
Categories
Appetizer, Seafood, Del Monte Pineapple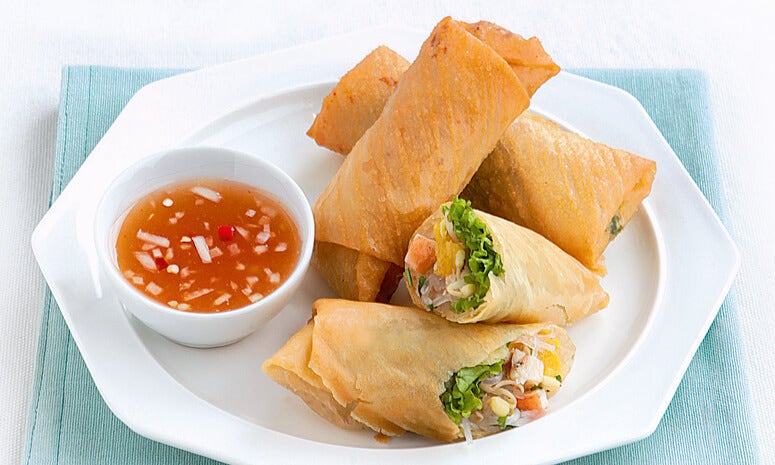 Ingredients
200 g pork, ground
100 g shrimp, shelled and diced
- reserved pineapple syrup
1/4 tsp salt
3/4 tsp salt
1/4 tsp pepper, black
1 cup togue
50 g sotanghon, soaked for 5 minutes, drained then cut up
1 can DEL MONTE Crushed Pineapple (227g), drained, reserve syrup
3 Tbsp wansuy, chopped
150 g lettuce, trimmed and dried
28 pcs lumpia wrapper, small square
1/2 cup hoisin sauce
1 Tbsp peanut butter
1/3 cup reserved stock
Cooking Tools Needed
Measuring Cups
Spatula
Chopping Board
Measuring Spoon
Preparation
1. Simmer pork and shrimps in pineapple syrup with salt for 3 minutes. Drain. Reserve stock.
2. Combine the cooked pork and shrimp with salt, pepper, togue, sotanghon, DEL MONTE Crushed Pineapple, and wansuy.
3. Lay the lettuce leaf on top of the wrapper before filling with 2 tablespoon of pork and vegetable mixture. Fold the sides towards the center and roll. Fry until golden brown.
4. Sauce: Combine ingredients in a saucepan. Heat for 2 minutes. Serve with rolls.
---