Stuffed Chicken Breast Recipe
Your loved ones will be impressed with this delectable dish.
---
Categories
Main Dish, Chicken, Del Monte Tomato Sauce
Cooking Time
1 hr. and 12 mins.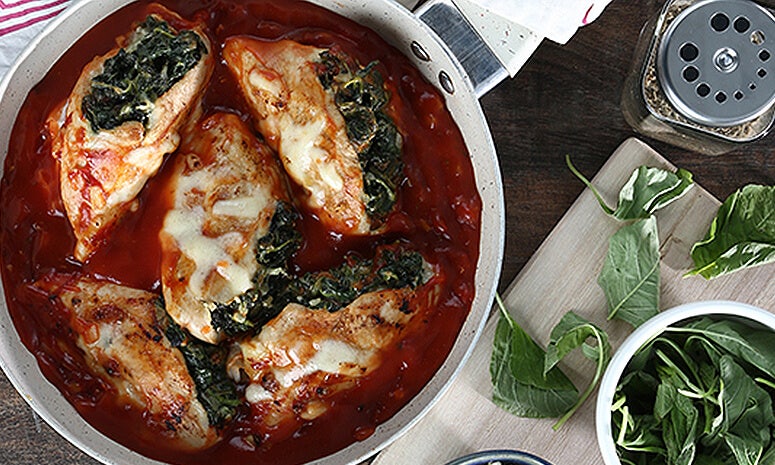 Ingredients
2 Tbsp oil
1 Tbsp onion, white, chopped
2 cup spinach, blanched and squeezed to remove excess liquid
1/4 tsp salt
2 cup cheddar cheese (or any melting cheese), grated
1 kg chicken, breast fillet (approximately 5 pieces), cut into 1 1/2-inch thick
1/2 tsp salt
1/4 tsp pepper, black
2 Tbsp oil
2 Tbsp onion, white, chopped
1 tsp garlic
1 pack DEL MONTE Tomato Paste (150g)
2 cup water
1/2 tsp salt
1 tsp oregano, ground
Preparation
Sauté onion and cooked spinach in oil for 2 minutes. Season with salt. Place in a bowl.
Mix spinach mixture and 1 1/2 cups of cheese. Set aside.
Using a sharp knife make a pocket

from the side by running the tip of your knife along the middle of the meat.

Divide the filling into five. Season chicken breast with salt and pepper on both sides. Stuff with spinach mixture. Seal with a toothpick.
In a pan, brown the meat with oil on both sides. Set aside.
Using the same pan, sauté onion, garlic, and DEL MONTE Tomato Paste. Sauté for 2-3 minutes then add water.

Season with salt.
Bring to a boil and allow to simmer, add chicken and oregano. Simmer for 12 minutes.
Top chicken with the remaining cheese, simmer until cheese is melted. Serve.
---