Fruit Pandan Ice Cream Salad Recipe
What could be better than ice cream and fruit salad combined? Try for yourself.
---
Categories
Dessert, Fruit, Del Monte Fruit Cocktail
Cooking Time
24 hrs. and 15 mins.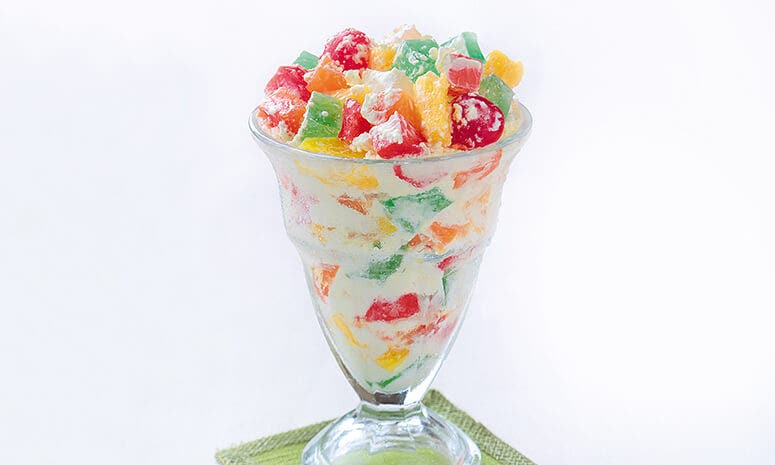 Ingredients
2 pcs buko, meat cut into squares, reserve 1 1/4 buko juice
4 pcs pandan leaves
1 pack unflavored gelatin, mixed with fruit cocktail syrup
1 can DEL MONTE Fiesta Fruit Cocktail (836g), drained, reserve syrup
3 Tbsp sugar, white
1/4 tsp food color, green
2 1/2 cups ice cream, macapuno, partially thawed
1 cup all-purpose cream
2 Tbsp condensed milk
Cooking Tools Needed
Measuring Spoon
Measuring Cups
Spatula
Preparation
1. Cover and simmer buko water in a pan with pandan leaves for 5 minutes. Turn off heat. Remove pandan and add gelatin mixture, stir to dissolve then add sugar. Stir until dissolved. Add food color. Pour into 5 x 8-inch pan and chill until set. Cut into cubes.
2. Soften ice cream a bit. Blend with cream and condensed milk. Combine immediately with buko, DEL MONTE Fiesta Fruit Cocktail and gelatin. Freeze overnight.
---