Red Pansit Molo Recipe
We've made this classic comfort food more heartwarming.
---
Categories
Soup, Chicken, Del Monte Tomato Sauce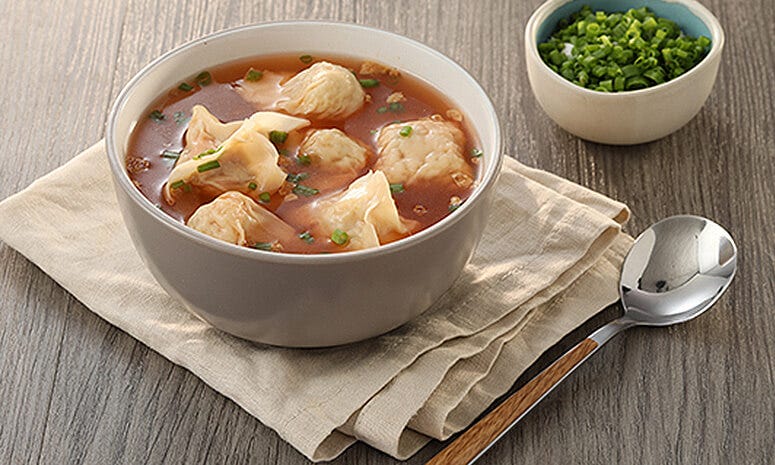 Ingredients
200 g chicken, ground
200 g shrimp, minced (shells & heads removed)
1/3 cup onion, red, finely chopped
1 pc egg
1/2 tsp salt
1/2 tsp pepper
2 pack molo wrapper
1 cup water, for sealing molo wrappers
2 Tbsp oil
1 Tbsp garlic, minced
8 cup chicken stock
1 pouch DEL MONTE Filipino Style Tomato Sauce (90g)
2 Tbsp spring onion, finely chopped
Procedure
1. In a bowl, mix the ground chicken, minced shrimp, and half of the onions. Add the egg and mix thoroughly. Season with salt and pepper.
2. Take one molo wrapper then place 1 teaspoon of mixture and fold into a triangle. Take the ends, dab with water and press those ends together. Place finished dumplings on a tray and repeat procedure for all dumplings.
3. In a pre-heated pot. Saute remaining half of onion, garlic then add chicken stock and DEL MONTE Filipino Style Tomato Sauce. Let simmer then add the prepared molo, stirring occasionally. When cooked, top with spring onions. Serve hot.
Lusog Notes
This Red Pansit Molo dish is rich in vitamin A that helps protect one from infections and promotes normal growth and development. It is also high in iron which is needed in the formation of red blood cells that carry oxygen in the body.
Chef's Tip
Garnish with spring onions. Spring onions add a subtle onion taste, mild spice, and freshness that cuts through the rich soup.
Featured Products
---