Raisin-Tomato Cupcake Recipe
Did you know that adding tomato sauce makes cupcakes more moist? This recipe is a must-try!
---
Categories
Dessert, Fruit, Del Monte Tomato Sauce
Ingredients
1 cup all-purpose flour
2 tsp baking powder
1/2 tsp baking soda
2/3 tsp cinnamon, ground
2 Tbsp milk, powdered
1/4 cup butter
1/2 cup sugar, white
1 pc egg, separated
1 pouch DEL MONTE Original Style Tomato Sauce (115g)
3 Tbsp sugar, white
1/8 tsp cream of tartar
1/4 cup cashew nuts, toasted, chopped
3 Tbsp raisins
35 pcs muffin cups (about 1 Tablespoon capacity)
Cooking Tools Needed
Measuring Cups
Spatula
Chopping Board
Measuring Spoon
Toothpick
Muffin Pan
Procedure
1. Preheat oven to 350°F. Line muffin pan with muffin cups. Set aside.
2. Sift together first 5 ingredients. Set aside. Cream butter and sugar until creamy, then add egg yolk. Beat well.
4. Beat egg white with cream of tartar until foamy. Add sugar gradually. Continue beating until stiff but not dry. Fold in flour mixture and cashew nuts.
5. Fill muffin cup with half-full of batter. Top with raisins. Bake for 10 - 12 minutes or until a toothpick inserted in the center comes out clean.
Lusog Notes
Did you know that raisins provide carbohydrates needed by the body for energy? It also has fiber that helps cleanse the body.
Chef's Tip
For a softer cupcake, do not overmix the batter once you have added the flour. Proteins in the flour develop web-like structures in the batter as you mix, making the cake tougher. Mix only until the flour is incorporated into the creamed butter mixture.
Featured Products
---
You also might be interested in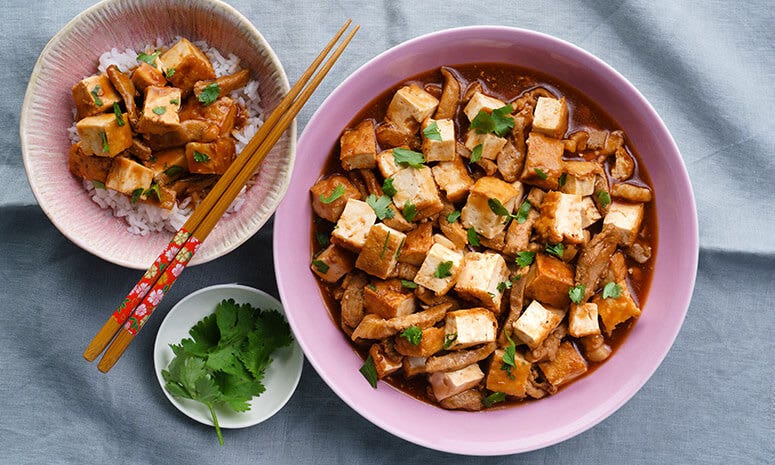 A quick, sauce-sarap dish for busy days.