Laing Kitchenomics Recipe
Surprise your family with this Quick 'n Easy take on a Bicolano classic.
---
Categories
Main Dish, Vegetable, Del Monte Quick 'n Easy, Del Monte Tomato Sauce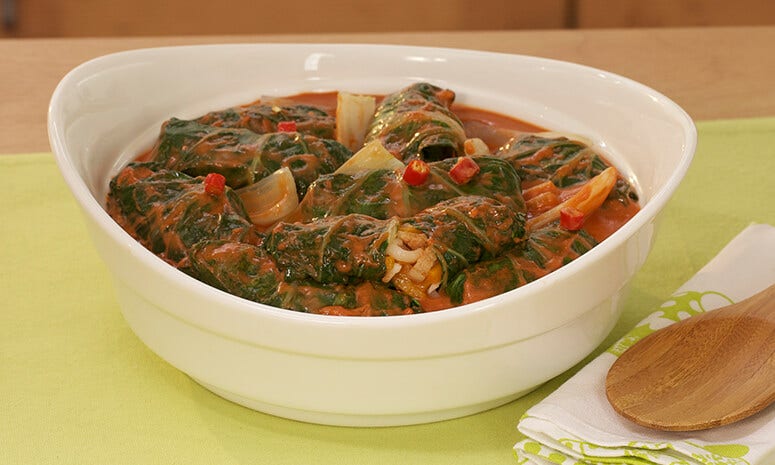 Ingredients
660 g pechay tagalog, stems cut off and set aside
2 pc buko, meat shredded, reserve buko water
330 g pork, liempo, cut into thin strips
3 3/4 cup squash, finely grated
3 1/3 Tbsp garlic, crushed
1/2 cup onion, red, chopped
2 pc siling labuyo, crushed
2 pack DEL MONTE Quick 'n Easy Gata Mix (40g)
1/2 tsp salt
1 pouch DEL MONTE Filipino Style Tomato Sauce (200g)
- salt, to taste
Cooking Skills Needed
Grating
Trimming
Wrapping
Mixing
Procedure
1. Cover bottom of casserole with pechay stems. Set aside.
2. Combine the next 5 ingredients thoroughly. Add 1 pack DEL MONTE Quick 'n Easy Gata Mix and salt. Wrap every 1 1/2 tbsp of mixture in pechay leaves. Arrange on top of pechay stems. Add excess pechay leaves and siling labuyo.
3. Dissolve remaining DEL MONTE Quick 'n Easy Gata Mix in buko water. Combine with DEL MONTE Filipino Style Tomato Sauce. Add vegetables. Simmer uncovered for 10 minutes.
4. Season with salt to taste. Cover and simmer for another 10 minutes.
Lusog Notes
This nutritious Laing Kitchenomica dish is high in iron needed for making red blood cells that carry oxygen around the body and is a source of fiber that that can help maintain healthy weight.
Chef's Tip
To make the pechay more pliable, blanch them in boiling water for a few seconds, drain then plunge in ice water. The ribs of the leaf will be more tender and easier to fold without tearing.
Featured Products
---