Del Monte Red Pork Sinigang Recipe
---
Categories
Main Dish, Pork & Del Monte Tomato Sauce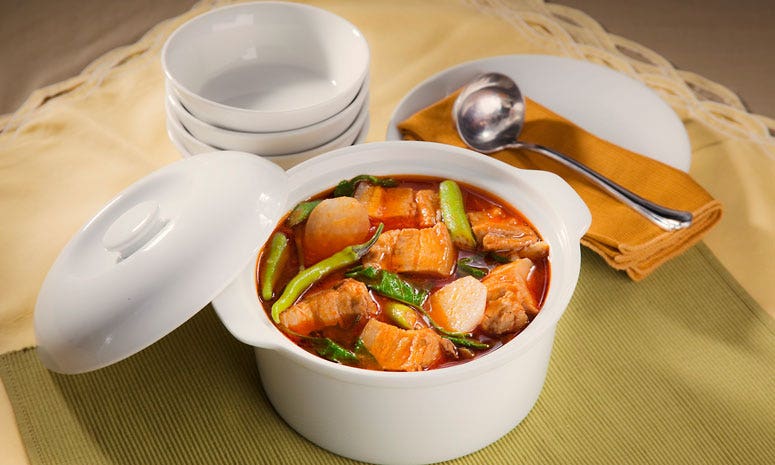 Ingredients
2 1/4 cups water
2 Tbsp onion, red, sliced
500 g pork, liempo, cut into 3 inch cubes
1/2 Tbsp patis
1 pouch DEL MONTE Original Style Tomato Sauce (200g)
2/3 cup radish, sliced diagonally
2 pcs siling haba
3 pcs okra, each piece cut into two
1 bunch kangkong, leaves and tender stalks only
1 Tbsp sinigang mix
Cooking Tools Needed
Spatula
Measuring Cup
Chopping Board
Measuring Spoon
Pot
Procedure
1. Combine water, onion, pork, patis, and DEL MONTE Original Style Tomato Sauce. Allow to boil, cover and simmer for 30 minutes or until pork is tender.
2 . Add radish and sili. Simmer until radish is almost cooked. Add okra and allow to simmer until okra is cooked
3. Add kangkong and sinigang mix powder. Bring to a boil and allow to simmer for 5 minutes or until kangkong is wilted.
Lusog Notes
Siling haba (finger chili) varieties have different levels of heat. Start with 1 piece and add more for additional heat.
Chef's Tip
This all-time favorite local dish is high in iron needed for making red blood cells that carry oxygen around the body and vitamin A that protects one from infections by keeping skin and other body parts healthy.
Featured Products
---
You also might be interested in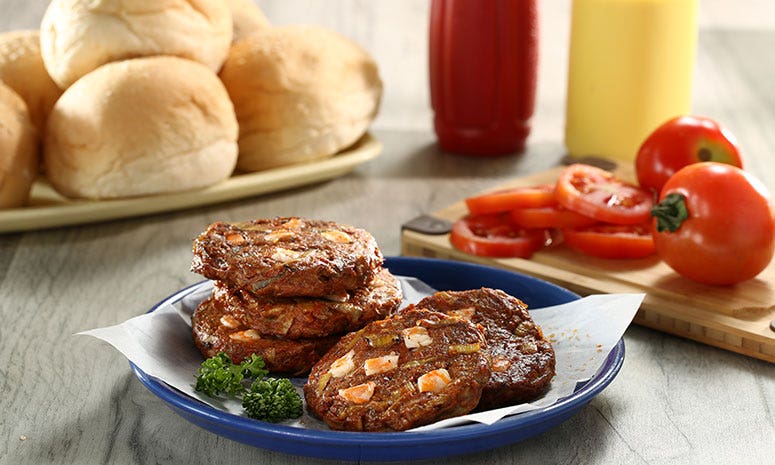 Shrimp and Vegetable Burger Recipe
Give a healthy, sauce-sarap twist to a family favorite.