Chunky Chicken Pasta Recipe
You don't need complicated ingredients for this flavorful pasta.
---
Categories
Pasta/Noodles, Chicken, Del Monte Spaghetti Sauce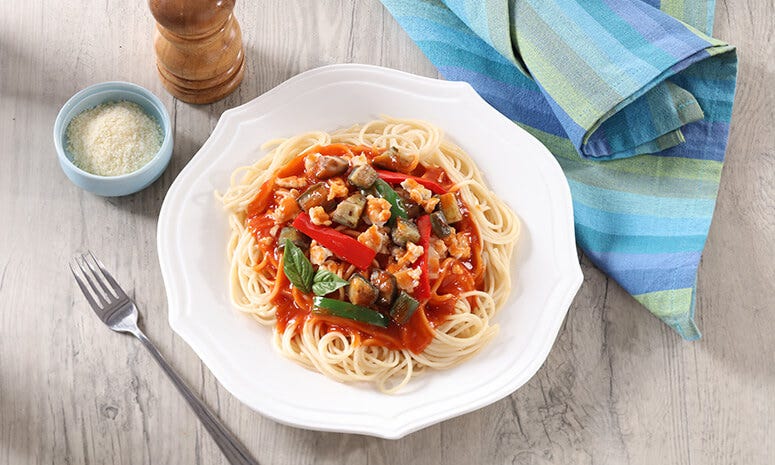 Ingredients
3 Tbsp oil
1/2 cup onion, cut into wedges
2 Tbsp garlic, minced
350 g chicken, ground
2 cup eggplant, cut into cubes
1/2 cup bell pepper, red, cut into wide strips
1/2 cup bell pepper, green, cut into wide strips
1 pouch DEL MONTE Italian Style Spaghetti Sauce (1kg)
1 tsp salt
1 tsp pepper, black
1/3 tsp basil, dried
2/3 pack DEL MONTE Spaghetti (900g), cooked
- cheese (optional)
Cooking Tools Needed
Chopping Board
Spatula
Wooden Spatula
Measuring Cups
Pot
Measuring Spoon
Cooking Skills Needed
Boiling
Simmering
Slicing
Sautéing
Procedure
1. Sauté onion in oil. Add garlic then sauté until aromatic.
2. Add chicken and sauté until brown. Add eggplant and bell peppers. Cook for 3 minutes, stirring occasionally.
3. Add DEL MONTE Italian Style Spaghetti Sauce and simmer for 10 minutes.
4. Season with salt, pepper, and basil.
5. Pour and mix sauce with DEL MONTE Spaghetti. Top with grated cheese, if desired.
Lusog Notes
This dish is rich is vitamin B1 that helps the body convert food into energy. Vitamin B1 is also important for the normal function of nerves and muscles and keeps the immune system functioning properly.
Chef's Tip
For a more flavorful sauce, choose ground chicken thigh fillet that has more fat. It has more flavor and will not dry out easily.
Featured Products
---