Pork Clam Oriental Recipe
Seafood and pork are perfectly combined in this satisfying dish!
---
Categories
Main Dish, Pork, Seafood, Del Monte Tomato Sauce
Cooking Time
1 hr. and 5 mins.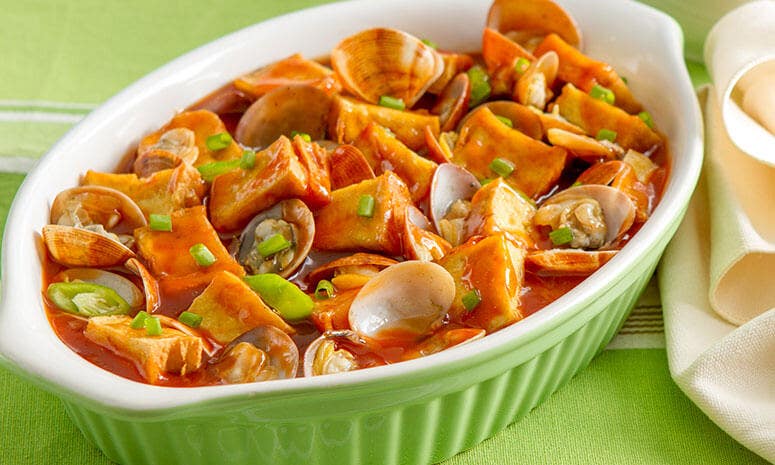 Ingredients
400 g pork, pigue
1/8 tsp salt
1/8 tsp pepper, black
1 1/2 tsp soy sauce
3 1/4 Tbsp green onions, chopped
1 1/2 pcs siling haba, sliced diagonally
2 Tbsp oil
1 1/2 Tbsp garlic, crushed
1/4 cup onion, sliced
1 pouch DEL MONTE Original Style Tomato Sauce (200g)
1 1/3 cups clam stock
1/4 tsp pepper, black
2 1/2 pcs tokwa, fried and cut into cubes
400 g clams (halaan), soaked, boiled and shelled, reserve broth
Cooking Tools Needed
Measuring Cups
Pot
Chopping Board
Measuring Spoon
Wooden Spatula
Preparation
1. Marinate pork in salt, pepper, soy sauce, green onions, and sili for 30 minutes.
2. Sauté garlic, onion, and pork. Add DEL MONTE Original Style Tomato Sauce, clam broth, salt, and pepper to taste. Simmer for 25 minutes or until pork is tender.
3. Add tokwa and clams. Allow to simmer. Serve as rice topping.
Featured Products
---