Seafood Curry Recipe
This heartwarming seafood curry makes for great comfort food.
---
Categories
Main Dish, Seafood, Del Monte Pineapple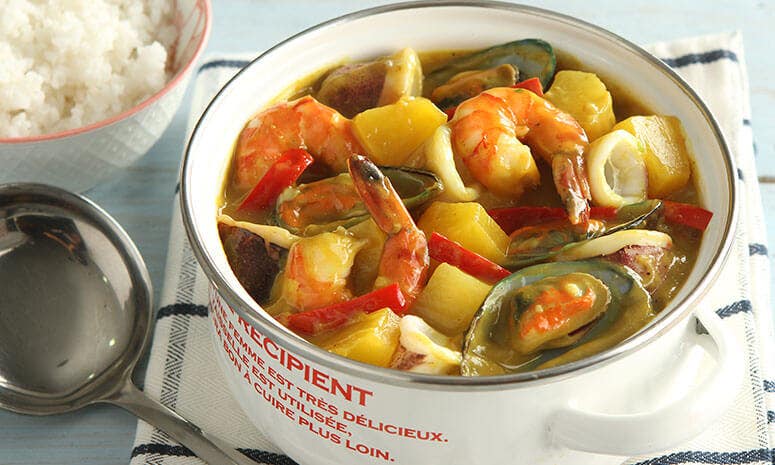 Ingredients
400 g squid, ink sac removed and meat cut into 3
200 g shrimp, heads removed
2 Tbsp oil
1/3 cup garlic, crushed
1/2 cup onion, red, sliced
2 Tbsp ginger, cut into strips
2 cups potato, cut into chunks
1/2 cup water
1 tsp salt
1/4 tsp pepper
1 kg mussels (tahong), boiled and half shell removed
2 packs DEL MONTE Quick n Easy Gata Mix (40g), dissolved in 2 cups water
1 pack DEL MONTE Quick 'n Easy Curry Mix (40g)
1 can DEL MONTE Pineapple Chunks (432g), drained, reserve syrup
2/3 cup bell pepper, red, cut into strips
Cooking Tools Needed
Chopping Board
Measuring Spoon
Spatula
Mixing Bowl
Measuring Cups
Sauté Pan
Cooking Skills Needed
Boiling
Sautéing
Simmering
Mixing
Procedure
1 Marinate squid and shrimps in reserved pineapple syrup for 30 minutes. Drain and set aside.
2 Sauté garlic, onion, and ginger. Add potato, water, salt, and pepper. Simmer over low heat for 10 minutes. Add squid, shrimps, tahong, DEL MONTE Quick n Easy Gata Mix, and DEL MONTE Quick n Easy Curry Mix. Simmer for 5 minutes with occasional stirring. Add DEL MONTE Pineapple Chunks and bell peppers. Allow to simmer.
Lusog Notes
This dish is rich in iron that is needed to normalize metabolism and for the functioning of enzymes that help remove unwanted substances from the body. It is also high in vitamin A that helps keep the immune system healthy.
Chef's Tip
Do not overcook the seafood so they stay plump and juicy.
Featured Products
---
You also might be interested in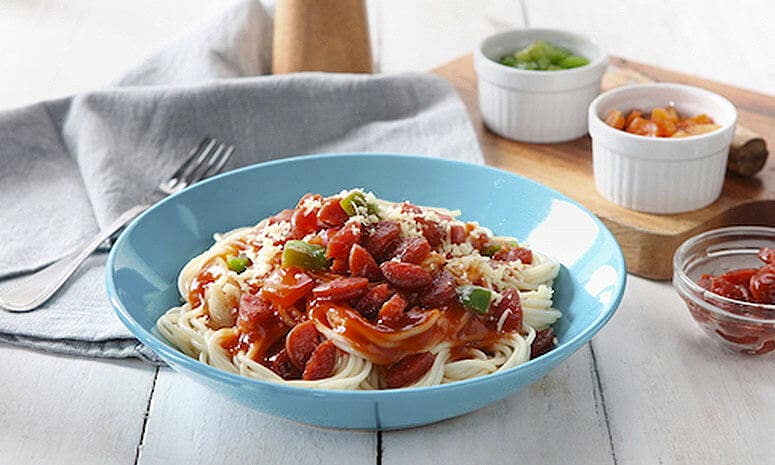 Chorizo lends a flavor kick to this simple pasta dish.