Fish Piña Tocho Recipe
Simple, but tasty. You simply must try!
---
Categories
Main Dish, Seafood & Del Monte Pineapple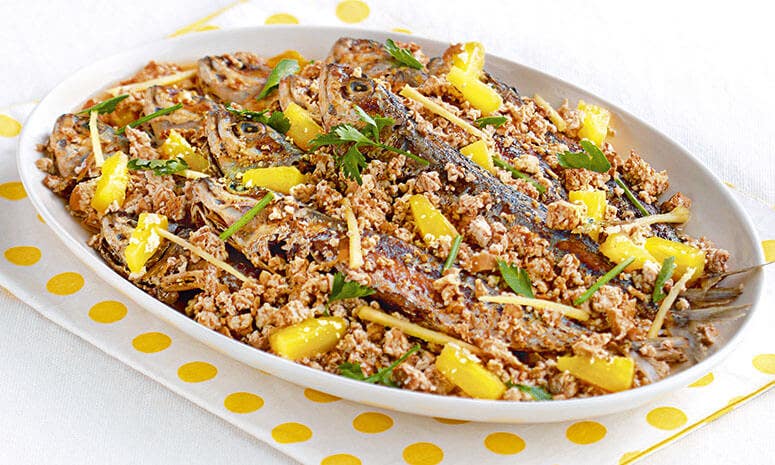 Ingredients
3/4 kg alumahan, cleaned
3/4 tsp salt
2 Tbsp oil, for frying

2 Tbsp oil
1 1/2 Tbsp garlic, crushed
1/3 cup onion, red, sliced
1 1/2 Tbsp ginger, cut into strips
2 Tbsp soy sauce
1 1/4 cup water
1/4 tsp pepper, black
2 cube tahure, drained
100 g tokwa, cut into cubes
2 pouch DEL MONTE Pineapple Tidbits (115g), drained, reserve syrup li>
3 stalk kinchay, cut into 1-inch long pieces
Cooking Tools Needed
Chopping Board
Measuring Cups
Measuring Spoon
Procedure
1. Sprinkle fish with salt. Fry until golden brown. Set aside.
2. Sauté garlic, onion, and ginger. Add soy sauce, reserved pineapple syrup, water, and pepper. Stir. Boil then simmer for 3 minutes.
3. Mash tahure and tokwa together. Add to the sauce. Simmer for 5 minutes.
4. Add DEL MONTE Pineapple Tidbits, fried fish, and kinchay. Simmer for 1 minute.
Lusog Notes
This tasty Fish Piña Tocho dish is a source of calcium which is important to make bones and teeth strong, and of iron that is needed for red blood cell formation and normal metabolism.
Chef's Tip
Tahure is a salty fermented tofu and is the ingredient that gives the distinct flavor of the dish. Be sure to mash the tahure very well so that the flavor is well distributed in the sauce.
Featured Products
---
You also might be interested in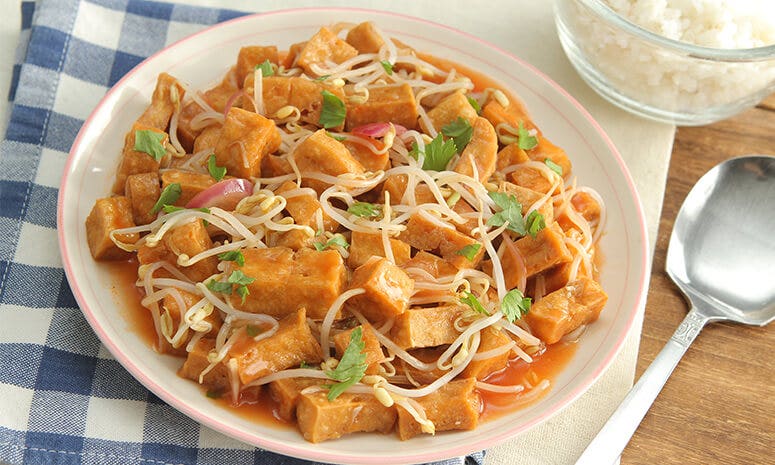 Tofu and Togue Guisado Recipe
This recipe makes for a healthy addition to any meal.
Pork Tofu Stir-Fry Recipe
Enjoy a saucy version of the favorite tokwa't baboy.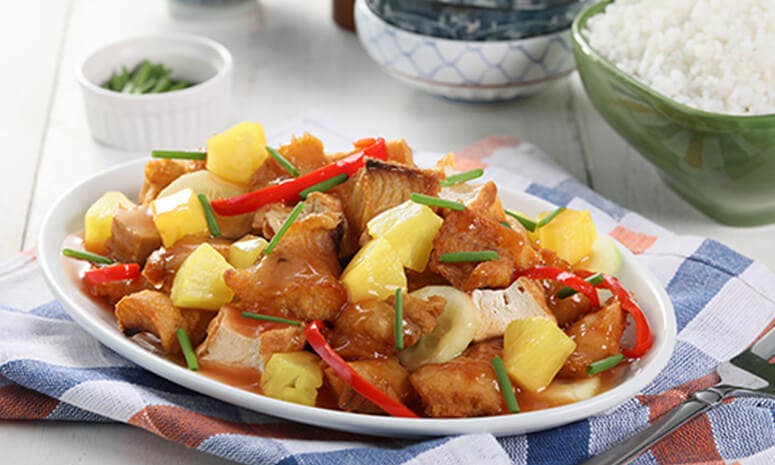 Sweet And Sour Tofu Fish Recipe
Sweet and Sour Fish is made extra-special with this recipe.