Del Monte Paella Recipe
Learn how to make delicious paella, the Del Monte way!
---
Categories
Rice, Seafood, Del Monte Tomato Sauce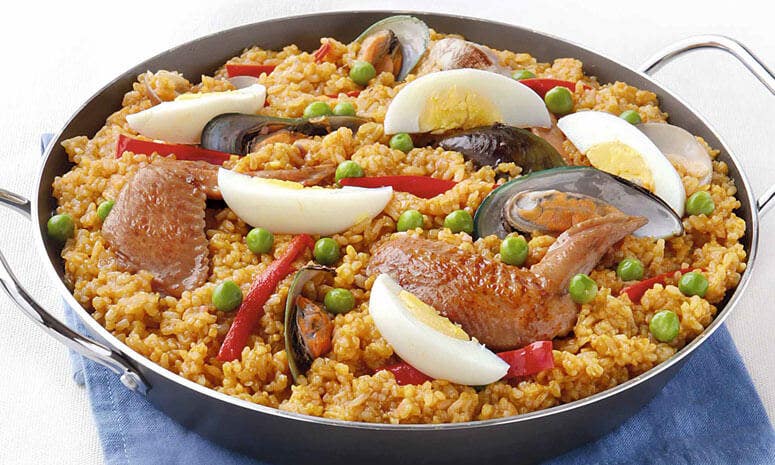 Ingredients
3 pcs chicken, wings, each piece cut into 2
2 1/2 tsp soy sauce
1/8 tsp pepper, black
500 g clams (halaan)
750 g mussels (tahong)
2 Tbsp oil
1 Tbsp garlic, crushed
1/4 cup onion, sliced
2 pcs chorizo de bilbao, sliced
1 pouch DEL MONTE Original Style Tomato Sauce (250g)
- salt, to taste
- pepper, to taste
1/3 cup green peas, frozen, cooked
1/3 cup bell pepper, red, cut into strips
2 1/2 cups rice, cooked
3/4 cup rice, malagkit, cooked
1 pc egg, hard boiled and sliced
Cooking Tools Needed
Measuring Spoon
Pot
Measuring Cups
Spatula
Procedure
Season chicken with soy sauce and pepper. Set aside. Boil halaan and tahong until shells are open. Remove tahong meat from shells. Reserve 1/3 cup broth.
Sauté garlic, onion, chorizo, and chicken. Add the broth and DEL MONTE Original Style Tomato Sauce. Season with salt and pepper to taste. Cover and simmer over low heat until chicken is tender.
Add tahong meat and halaan, green peas, bell pepper, rice, and malagkit rice. Cook for 3 minutes. Top with egg slices before serving.
Lusog Notes
This dish is high in iron needed for normal metabolism. It is also high in Vitamin A for eye health and niacin, which promotes normal digestion.
Chef's Tip
For a more flavorful paella, allow the chorizo to realease its fat during sautéing. The chorizo fat contains a lot of flavor that will mix with the rice.
Featured Products
---
You also might be interested in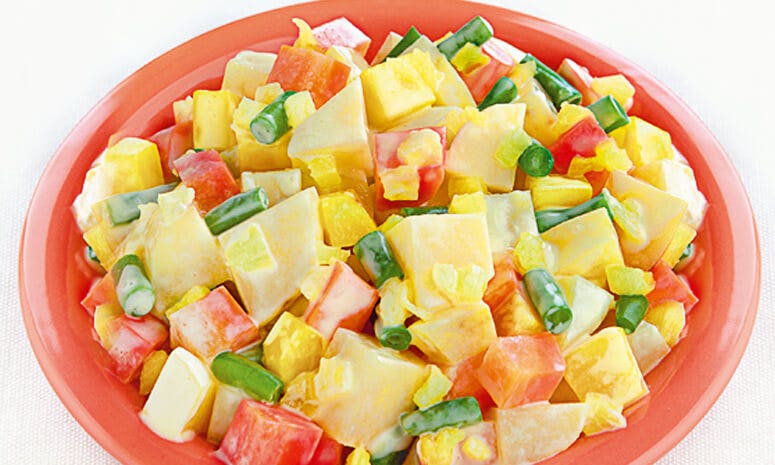 Pineapple Potato Salad Recipe
Add this delicious salad to your meals!